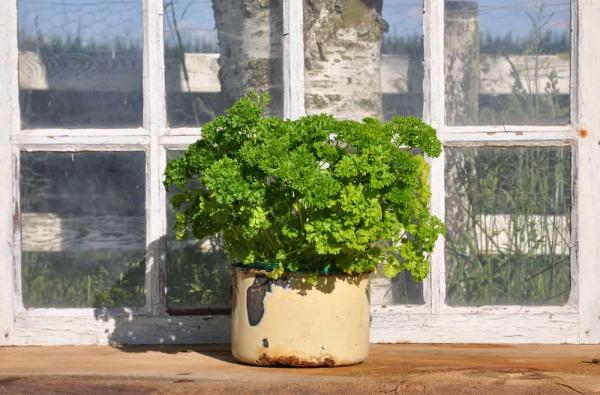 Every February, I await the arrival of seed catalogs with the eagerness of a young girl with her first date. I check my mail several times a day, anxious for those full-color catalogs with enticing photos of bright red, juicy tomatoes and mouth-watering peaches.
I close my eyes and imagine a couple of acres of fertile land that would enable me to be self-sufficient and sure that what I'm eating is safe. Then I open my eyes and look out of my 520-square-foot apartment at the tiny patch of earth outside my back door.
Thank goodness for good old Yankee ingenuity! There are so many ways that even folks in tiny places can produce at least a small portion of what they eat. Here are some great ideas:
These folks found a clever way to start seedlings on a window sill using a 2-liter soda bottle. This is so easy, your children can do it start to finish and reap the rewards of home-grown.
This site shows you how to turn used soda bottles into an herb garden you can hang from your railing.
(last one from 2-liter bottles, I promise). This one-minute YouTube video illustrates how to make a vertical garden that also conserves and recycles water.
This is perfect if you have a yard that you're not allowed to till, if you have physical limitations (you can even do it in a wheelchair), or if you live in an area with poor soil conditions. You'd be amazed at what you can produce in a small area.
I love this method. Great use of small space. Have one for herbs and one for salad veggies.
Rather than throw containers away, think about whether they can be used for planting: milk jugs, coconut shells, egg cartons (for starting seedlings), big cat litter jugs, old cracked ceramic bowls, leaky coolers, used gutter from around your roof, plastic juice bottles. This link gives lots of great information and ideas for containers and tells you how to prepare them for gardening purposes.
Let your imagination run wild. Use this article as a springboard for ideas on how and what to plant. Here is a great resource that will help you to know what size container to use for which vegetables.
Here are some reasons for making the effort to grow your own:
Do the math
Say a packet of tomato seeds is 50 cents (in my decades of gardening, I've had as much success with ten cent packs of seeds as I have from the expensive ones I've purchased at a farm store) and say there's 40 seeds in a pack and then suppose that only half of them germinate. You're going to net 20 tomato plants that will each yield you approximately 10 tomatoes each. Now calculate how much you're going to pay for those 200 tomatoes at a grocery store.
Less fear
The news is full of stories of food related illnesses and what is in your food that you might not know about. When you grow your own vegetables, you know exactly how you've done it and what is in them.
Quality
By the time produce reaches the grocery store, it can be as long as three weeks from the time it was harvested. Produce loses nutrients each day after they have been harvested.
Teaching children stewardship
Growing vegetables is a wonderful way to teach children responsibility, science, math, economics and the joy of producing something with their own hands and sweat. It will also often get them to try new things if they are fussy eaters.
There is nothing like going out in the morning sun and picking a fresh tomato (not a polyester one) and placing it between two slices of whole-grain toast with a little mayo, salt and pepper.