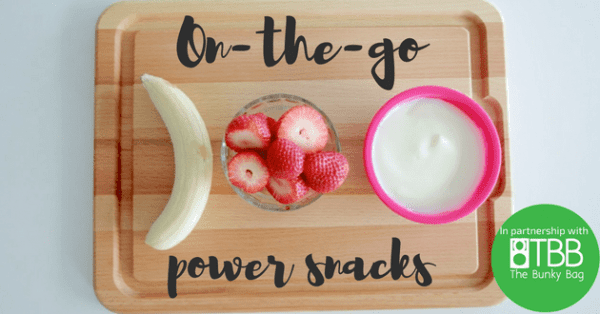 Every parent knows the list of most dreaded phrases their child can utter while in the car or out and about. No. 1 on the list is probably, "I have to go to the bathroom." Second on the list is, "I'm hungry," especially if said child recently refused to eat the perfectly healthy meal you lovingly prepared and presented at home.
Now you're out of the house with errands to run or hours to drive before you reach your destination, so your only choice is to hit a fast-food restaurant's drive-thru or take a chunk of time out to comb a local grocery store for something they'll eat.
Experienced parents come to understand the importance of having snacks on hand for when their children's munchies hit. The problem is, a lot of the most portable snacks are loaded with sugar and empty calories that "fill them up," but only for a moment. The key when it comes to snacks for your kids is to opt for more nutritional snacks that are full of vitamins, nutrients, and protein, the ingredients that will actually enrich your child's nutritional intake. By doing so, you're allowing their bodies and their brains to grow to their maximum potential.
Luckily, making on-the-go snacks is pretty easy, and the results are way healthier than the store-bought versions. All you need are some reusable food pouches to make storing and transporting snacks easy.
These treats are so sweet, your kids won't even realize that they are healthy for them!
1 cup vanilla yogurt
1 cup strawberries
1 banana
3-5 ice cubes
Puree in blender until smooth. Pour into snack pouch. Consume immediately or store in fridge
1/2 cup orange juice
2 large handfuls raw baby spinach
1 cup nonfat vanilla Greek yogurt
1 cup frozen blueberries
1/2 frozen banana
1/4 cup 100% cranberry juice (unsweetened)
Add two large handfuls of fresh organic baby spinach to a blender with 1/2 cup of orange juice and blend very well - make sure you keep blending until all of the green pieces are gone. Add the remaining ingredients to the blender and blend until smooth.
1 tbsp unsalted butter
1 large sweet potato, peeled & chopped
1 cup water
1/2 cup peas
3/4 cup baby spinach, washed and stems removed
Melt butter in saucepan. Add the sweet potato and water. Bring to a boil then cover and simmer for 7-8 minutes. Add peas and spinach and cook for three more minutes. Puree the mixture in a blender to make a smooth consistency. Pour into a snack pouch and refrigerate.
1 heaping cup sliced peaches
3 tbsp honey
Juice of 1/8 lemon
1/2 cup plain yogurt
Puree in blender until smooth. Pour into snack pouch. Store in freezer for at least one hour before serving.
1 can coconut milk
1/3 cup cocoa powder
1/4 cup honey
1 tsp vanilla
Puree in blender until smooth. Pour into snack pouch. Store in freezer for at least one hour before serving.
4 apples (about 1 1/2 pounds)
1/2 tsp cinnamon
1 pinch nutmeg
3/4 cup water
1 thin lemon slice
1/8 tsp salt
Peel, core and cube apples. Combine all ingredients in large pot, heat on high. Bring to a boil then cover, reduce heat to low, and simmer for 20 minutes stirring frequently. Add more water as needed. Remove lemon slice at the end of heating time.
Remove from heat and use a potato masher to mash apples to desired consistency. Serve warm or cold, refrigerate leftovers.
Keep your freezer stocked with these simple yet healthy snack pouch foods so anytime you need to leave the house you can grab them and go. Visit thebunkybag.com to stock up on reusable food pouches that can go anywhere you go, are freezer and dishwasher safe, and translucent so you can see that they're clean and safe. The Bunky Bag is also the only collapsable bag of its kind that rolls up and fastens nicely when your child is finished with their snack.
You'll save money and time, and you'll provide your kids with a healthy power snack all at once. Now that's a parenting win.