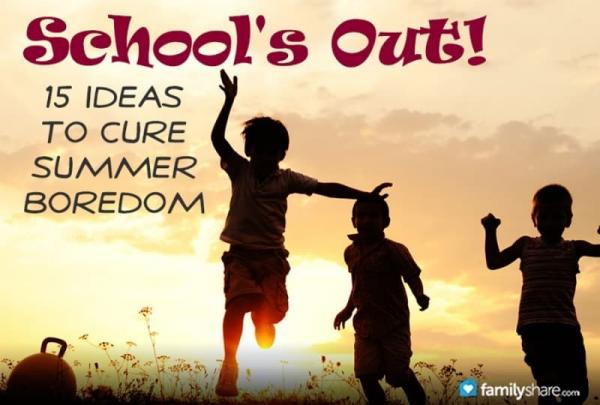 Every year parents rack their brains trying to find ways to keep their kids occupied and educated during the summer months. Here are just a few ideas that are sure to beat summer boredom.
Outdoor fun
Plant a flower or vegetable garden
Get each child his or her own seeds and pot or section of dirt. This is a great opportunity to teach the basics of gardening and get kids excited about Mother Nature. If you are unsure how to get started, visit kidsgardening for a few ideas.
Backyard campout
Don't want to pack up and head to the mountains to "get away from it all?" Go no further than your backyard. Start out the evening with a hot dog roast, smores and silly or spooky stories around your makeshift or real campfire. Plus if someone needs a potty break or gets scared, he or she can be right back in the comfort of home in just a few steps.
Find a splash pad
Many communities and parks are equipped with splash pads as an inexpensive and fun way to cool off the kiddies. This is a great alternative for swimming pools if you have little ones. Ask around to find some in your area.
Play water balloon volleyball
Find a local park with a volleyball net, grab some towels and water balloons and you're sure to have some fun while you beat the heat. You can even do this in your own backyard with a badminton net.
Have a water gun fight
Many dollar stores carry water guns or toys that can keep kids occupied and cool for hours.
Indoor fun
Make a green smoothie
Curious about the green smoothie craze? There are numerousrecipes that are fun to make and provide a healthy alternative to the popsicle. Have your kiddos help out with the recipe and they might be more likely to take a sip of the green concoction.
Make some edible play dough
This is a great idea if you have little ones who enjoy tasting anything and everything in their vicinity. All you need is 1 cup peanut butter, 1/2 cup honey and 2 cups of powdered sugar. Voila! You now have something that will keep their hands busy and tummy full - at least for a few minutes anyway.
Try to make a copy of a famous painting
I remember making a replica of Van Gogh's Starry Night when I was in grade school. It kept me busy for hours and I learned a lot about the famous artist. Do you have a child who loves to draw or paint but needs some new ideas? Pull up a famous painting on your computer and have him make a copycat. You can have a few Monet's or Picasso's hanging on your walls in no time.
Make birthday cards for friends or relatives for the next month
. This one can be as a simple or extravagant as your child wants it to be. Get out your calendar, find some upcoming birthdays and let your child go to town with a box of crayons and markers. This is a great idea if you have little crafters looking for a way to pass the time.
Find a recipe for no-bake cookies or candy
No-bake recipes are hard to mess up and safer for kids. Little ones can help with dumping sugar or stirring. Older kids can try doing the recipe on their own.
Anywhere fun
Make a giant me
Get some butcher paper and have your kids trace their profile. Then they can decorate and color their bigger selves.
Learn a few magic tricks
The Web is full of beginner magic tricks that will keep your child busy. A simple Internet search can provide some good starter tricks.
Go to a museum
Sometimes we forget the places that are not too far from home. Do a Google search for museums in your area. Some are fairly inexpensive and some are free. This is a great way to pass the time as well as provide an educational experience.
Have your child create a top 10 list of entertainment
We really don't have to carry around a bag of tricks to cure the whining and moaning of boredom. Teach your kids a little self-reliance by having them come up with their own list of boredom busters to pass time. Keep it on the fridge as a quick reference for "I'm-bored"-itis.
Random acts of kindness
This is probably my favorite idea. There really is no better way to pass time and discover what is really important than to serve another person. Go to a care facility and sing a song to brighten someone's day. Donate slightly used books or toys to an organization. Weed or mow someone's lawn. Write a letter to someone who made a difference in your life. Anonymously leave a batch of cookies on someone's front porch. Serving others will teach our children the value of giving to others without thought of themselves. For more great ideas, visit the Random acts of kindness website.
Summer need not be a time to just "survive" until the new school year starts. Mix things up with a few new activities and you're sure to have a fun-filled, whine-free summer.