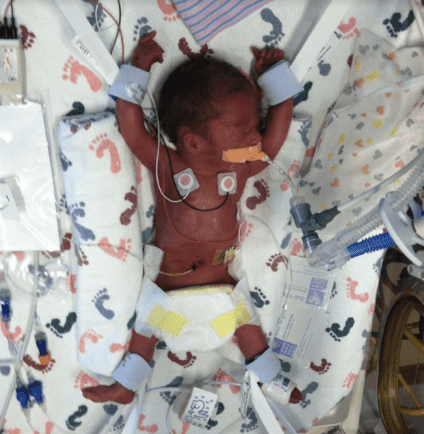 When people describe pregnancy, it doesn't sound pleasant. In fact it sounds utterly miserable most of the time. Occasionally I will meet a woman who has little to no morning sickness, is fairly comfortable during her pregnancy and doesn't have to adjust any part of her daily routine, other than possibly using the restroom a little more. I considered them one of the lucky few ... until I read the CNN story, "They didn't know they were pregnant."
How could you not know? You stop having regular periods, you get morning sickness, you gain weight, you have cravings and you are more emotional. The symptoms of pregnancy are well-known and easy to diagnose, right? For most women, that's the case, but when it comes to cryptic pregnancies, normal pregnancy symptoms are easily explained away or not present at all.
Dakota and Anthony Kuhns' Story
Little Able James Kuhns came as a complete surprise to his parents Dakota and Anthony in February of 2014. Dakota unexpectedly gave birth on her couch, with the help of her husband, to a little boy at around 29 weeks along.
Looking back there were a few signs, like back pain, nausea and some stomach pain. In fact, Dakota's boss even suggested that she might be pregnant, but two pregnancy tests (taken a month apart) showed negative results.
The morning after giving birth, Dakota posted pictures of her son on Facebook. Her friends were surprised and mentioned that they had no idea she was pregnant.
Dakota responded in a comment by saying, "I had him last night, and don't worry, until I had him I was out of the loop too!!"
Trish and John Staine's Story
This couple was done having children (or so they thought). Trish was rushed to the hospital due to intense back pains which turned out to be the first signs of labor. Their little girl Mira (short for Miracle) was born about five weeks early weighing around six pounds and six ounces.
Trish was already a mother to a 7-year-old daughter and an 11-year-old son. She is also the stepmom to John's three boys. She had some bad back pain, but attributed it to her half-marathon training. Trish didn't experience any weight gain or feel her baby move. Her husband John had a vasectomy. The couple was in total shock when Mira was born.
Jennifer and Dan West's Story
Jennifer had already experienced a fibroid tumor and a ruptured ovarian cyst, so when she was on vacation and started to get pain in her abdomen and back, she thought something similar was happening again.
Her symptoms steadily got worse and Jennifer was rushed to the hospital. An ultrasound revealed that she either had another fibroid tumor or was pregnant. Jennifer "knew" it had to be the tumor and a doctor was called. The doctor informed Jennifer she didn't have a fibroid tumor and was about to have a baby. Both she and Dan were shocked.
She soon gave birth to a little baby boy named Robert Hayward West.
Jennifer did experience a few pregnancy symptoms, but brushed them off. She had morning sickness, but thought it was the flu. Missing a period or two didn't bother her because her periods had always been irregular. Her husband used condoms. Heartburn and stomach pain were explained away as an aggravated ulcer. Weight gain was just attributed to age.
So, how can a pregnancy go unnoticed?
A cryptic pregnancy is where the mom is unaware of the baby until 20 weeks or more into the pregnancy. One study showed that cryptic pregnancies happen about one in 475 pregnancies, but most moms find out before they actually give birth. A Serbian study discovered that when the mother is unaware until the moment of birth happens in about one in 7,225 pregnancies.
Pregnancy symptoms can easily be attributed to other ailments. And since no pregnancy is exactly the same, women might not figure out that all their ailments indicate they are pregnant.
Even if they first suspect they're pregnant, a negative pregnancy test could convince them otherwise.
Here are some common symptoms of pregnancy
If you have more than one of these consider taking a few pregnancy tests and visiting your OB-GYN.