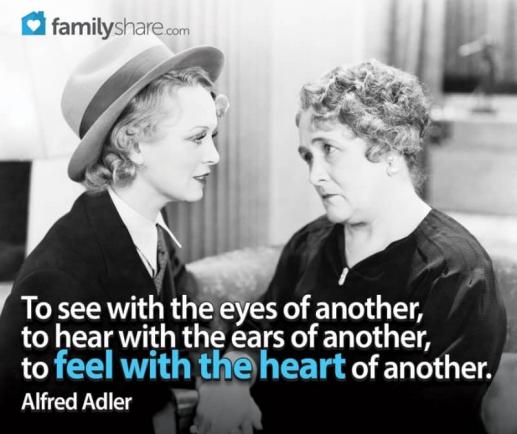 Empathy is the ability to feel another's feelings. A step beyond compassion, where we understand what someone is going through or why they feel a certain way. Empathy is when you put yourself in the position to experience what another experiences. It means going through what they go through and feeling what they feel. Empathy is walking in another's shoes.
To understand and show empathy:
Vicarious experience
Ask yourself, how would you feel if you when through the same situation as another. Really walk a mile in their shoes. If you haven't been through what they have, imagine it. Go there. What does it look, sound and feel like? Physically, psychologically and emotionally? Put yourself there. You can fantasize, daydream, dream, meditate and pray to bring yourself into this experience.
Personal relations
Relate their experience to a personal experience of yours that created similar feelings in you. If you choose to share it with them, make sure the emotional junctions don't take a long introduction. You don't want to make this empathetic interaction about you and what you went through. You want this to be about understanding and connecting with them. And only share if you really believe it will help them heal or help them feel like you get where they are coming from. Don't use this particular time to vent about your own issues.
Pity stop
Empathy is not pity. Feeling sorrow with someone does not mean feeling sorry for them. It also doesn't mean you contribute to their sorrow. If you genuinely relate their situation to one of your own where you naturally feel low, and this feeling arises, go ahead and process the emotion. But don't purposely make yourself feel bad with the intention of making them feel better. This is a bit misguided and hazardous to your own health. Now there are two low people just intensifying each other's negative feelings.

Try to be the one who keeps the focus positive and the energy high. It's OK if the other may not be ready to move forward. But remember, misery can love company. Don't let another's misery affect your energy. You can identify with them temporarily for the purpose of appreciating their pain. But don't hold on to another's emotions and make them your own.
Empathy is a concept that can be difficult to understand and implement without a clear definition. Many confuse empathy's objective intent to put compassion into emotional effect with simply feeling sad for someone. Or taking on their negative feelings as your own. This is sympathy. Expressing sympathy has its place, but even this is a delicate task. Tread lightly with expressing pity and sorrow for others. They may not appreciate it. And this makes sense. Do you really enjoy other people pitying or looking down on you? Or seeing you as in need or in a bad way?
Compassion and empathy are ways to connect with others through emotional experience and understanding. I do not suggest you shop in another's emotional store with intent to buy. Just go in so you can try things on for size.