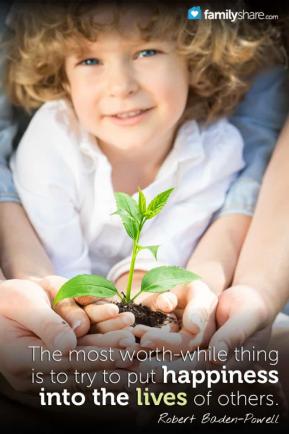 One of our dearest hopes as parents is that our children will grow up to be kind, generous, empathetic people. But how do we teach this? How do we make the desire to be kind a part of our family's life?
One excellent way is to get kids involved in service. Learning how serving others brings its own joys is one of the best lessons of life. And, it doesn't have to be complicated, expensive or difficult. Here are some ideas for children to offer service to others:
Plant a garden or a tree at your school or other public place.

Collect used towels and pet toys for the local animal shelter.

Hold a neighborhood drive for gently used books and DVDs to donate to a local children's hospital.

Find out when your next local Special Olympics event is, and go to cheer the athletes on.

If your teen is good at manicures, volunteer to give them at a local nursing home. Kids of all ages can brighten the residents' day with singing, reading aloud, or even just a visit.

Collect toys in good shape and donate them to your church's nursery.

Go through the cabinets and send canned goods to a food pantry. Often, older kids can also volunteer to work at the food pantry sorting donations.

Answer trivia questions at www.freerice.com. For every correct answer, the site donates an amount of rice to feed hungry people around the world.

Go to the park and pick up litter. (Wear gloves!) Kids may be surprised at the amount of trash they will find.

Call your local animal shelter to see if the animals would like someone to play with for an hour. If this isn't allowed, ask what the shelter could use instead.

Pull your neighbor's garbage cans back in after the truck goes by.

Make Valentine's Day cards for senior citizens - either ones you know or for residents of a nursing home.

Sometimes, the best service can be done right at home. Have your kids do something nice for each other. Clean a brother's room, make a sister's bed, help wash the dishes. Do something in secret and watch for the smiles that will come.
Perhaps the very best way to encourage your kids to be involved in service is to be a good example of it.
One young mother occasionally found herself taking meals in to neighbors or friends when they were sick, having a baby or were in need. She really enjoyed this service, but often asked her husband to take care of her children while she prepared the food and delivered it.
As many moms feel, she knew she could do these tasks more easily on her own, without children. Then she realized that she was missing a great chance, and could use these moments as teaching opportunities. The next time, she had the children help fix the meal and carry it to the neighbor's house. The children began to see firsthand the joy that can come from service.
Make service to others a part of your whole family's life, and you'll see the benefits come back to you tenfold.