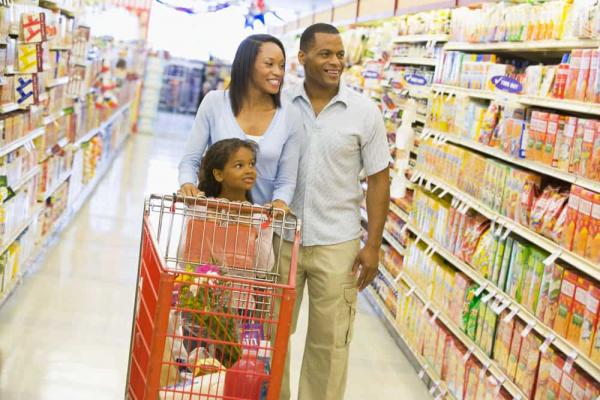 Grocery shopping can account for a large chunk of your monthly budget, especially with a large family. It's difficult to know how to best cut your grocery costs when you want to make sure your family is well-fed. But there are still many things you can do to avoid unnecessary costs without sacrificing quality and quantity.
Take advantage of sales on things you use every day
When I was in college, the local grocery store had a sale on cereal once or twice a month. When the prices were low enough, I would go with my roommates and get 30 boxes to split between the six of us. I was then able to enjoy breakfast for the next month off just a few dollars. On other things, it can be more expensive to buy in bulk. But if the price is right, it's non-perishable and you use it often you can save a lot over the long-run if you make it a practice to stock up when the sales come.
Plan your shopping trip
Poor planning will cause more trips to the grocery store, during which other things will catch your eye and you'll end up buying more than you planned for. Plan your shopping trip together as a family. This could be a good teaching opportunity to help your children see what goes into preparing their meals and how much it costs. Establish a one-two week menu and include the ingredients on the list. Allow quick trips between the main shopping trips only for little things like milk, eggs, and produce. But this should be an exception rather than the rule. Try to buy everything you will need until the next trip.
Avoid going to different stores
Clipping coupons from the newspaper or circulars is a good way to save. However, you don't really reap the benefits when you drive to three or four different stores to use them. Many coupons are manufacturer coupons, which are good anywhere. And many stores will match competitor coupons and prices. It would be best to call beforehand to check the policy to be sure.
Don't go hungry
This is a classic saving tip, but it often goes ignored. I definitely recognize the difference between shopping on an empty stomach versus shopping on a full one. When you are hungry, your mind is constantly thinking about what would taste good at the moment, and you convince yourself to buy things you wouldn't otherwise. Stick to your plan and your budget.
Buy generic
In my experience, it is very rare that I find a generic food product that tastes noticeably worse than the name brand. There are a few exceptions. But for the most part, there isn't much of a difference in the taste or quality. The only difference you will notice is in your wallet.
Go easy on the processed snacks
This tip may not go over well with your kids (or husband.) But with kids in the home your snack budget can reach ridiculous heights. Consider cutting down on snacks and provide enough food during mealtimes. Or, consider offering more traditional snacks like homemade cookies and milk, a sandwich or a healthier option. Processed snack food can be expensive and doesn't offer much quality of nutrition in return. Switching to an alternative can help your kids eat healthier and keep your pocketbook a little heavier.
When it comes to grocery shopping, if you budget and plan well you will be surprised at how much more efficient you can be - both with your time and your money. Keep these tips in mind and you will be taking a step in the right direction to helping your family be more financially secure.