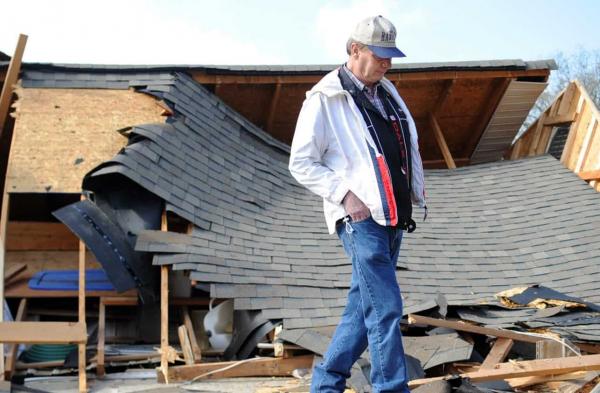 At least 30 were killed in the last week from a series of tornadoes that touched down in Texas and other parts of the Southern United States. Reports over the weekend said there were "more than a dozen" storms throughout Texas, with some counties calling for a state of emergency.
The storms came as a result of mixed weather throughout the region, BuzzFeed News reported. Melinda Urbina, a spokeswoman for the Dallas County sheriff, told BuzzFeed that the really warm temperatures mixed with the frosty wintry weather of December created the storms.
Some families woke up Monday morning to find that their loved ones had died from the storm's wrath. Kimberly Tippett and her 1-year-old son Kamryn Crain were killed by the storms, WFAA reported. Before they were found, Tippett's mother searched for her family.
Similarly, Juan Ruiz of Garland, Texas, told WFAA that his sister, Petra Porras, a mother of four, had been talking with her family through a video app before the storm came and the connection went dead. They eventually found her body on the interstate.
But some efforts have been made by families and other Texas locals to help these hurting families feel safe and sound in the wake of the tornadoes' destruction.
As WFAA reported, the Porras and Tippett families have started GoFundMe pages to help pay for funeral expenses. Porras' family alone has raised $14,000.
And the Red Cross has worked to help families, too, by setting up different shelters for people who have lost their homes or can't get back to shelter because of road conditions, BuzzFeed News reported.
Kirk Haston from the Nashville, Tennessee, area chose to do something similar.
Haston survived a 1999 tornado in his small hometown, which ended his mother's life. With the help of his community, Haston has found a renewed hope for the future.
He has chosen to help others who have experienced similar tragedies in the wake of these tornadoes, KLFY reported.
"After going through that in '99 and seeing how many people were willing to help me, people I didn't even know, it really has always made me have a soft spot for situations like this to try to get as many people on board to help out," Haston told KLFY.
Haston, who serves as the county's high school basketball coach, set up a fundraising campaign, for which the team was the first to donate.
"It's a heart-wrenching thing to see people go through, but it's a heartwarming thing to see how many people are willing to step up and help others," Haston told KLFY.
As communities continue to support their neighbors, families who suffered from the storms will hunt through the wreckage to find the remains of their homes and start life over again, grateful just to be alive, ABC 33/40 reported.
"I am so grateful that God looked upon us and blessed us to be alive," said Gloria Hardy, whose home, which had stood for 37 years, has been reduced to walls. "I have memories but I was just praying, I mean that you know we'll come out of it, we'll live through this, we'll live through this."