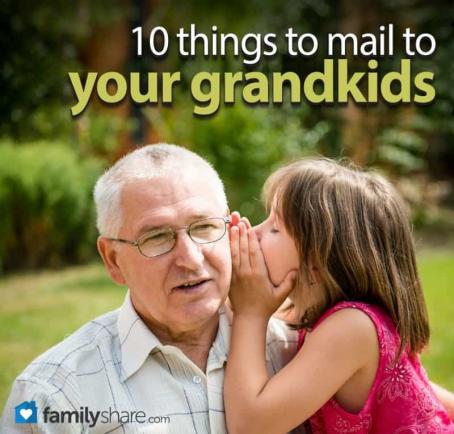 When my oldest son was a toddler, our small family lived in Florida. It felt like a million miles from our nearest relatives. One day, our son received a large package in the mail. To our surprise, my thoughtful mother-in-law had sent him a darling, green and yellow plastic John Deere lawn mower. We had just built our first home and put in the yard and landscaping. How could she know how delightful it would be for us to watch our little guy push his lawn mower, tagging along after his dad with his man-sized mower? Only a grandma could be so inspired.
Grandparents share a special bond with their grandchildren. Especially when they are separated by many miles. It's wonderful when Grandma and Grandpa can show their love via postage. Not by spending lots of money on expensive toys and clothes - which is nice to do sometimes - but, by sharing a small note or memento that says, "I'm thinking of you."
My grandma began to correspond with my oldest son about the time he was toddling around with his little lawn mower. She loved his scribbled notes and drawings. She would send friendly, chatty letters for me to share with him. She only lived a few more years after my son was born. Their correspondence gives me a sweet remembrance of her. She lived far from us and was lonely. I think their letters were a sort of pick-me-up for her. Those letters also formed a connection between my son and his great-grandmother because they never actually met.
If you're a grandparent feeling an urge to connect to a grandchild, here are 10 simple ideas to drop in the mail.
A meaningful toy.

A thoughtful letter of praise, support, or congratulations.

A postcard from a vacation spot.

A special treat (homemade candy or your special cookies).

A holiday greeting card (just for fun. Don't forget the obscure holidays like Groundhog Day and Flag Day).

A greeting card - just because.

An Easter tie or Halloween hair bow.

Your favorite old comedy or musical on DVD.

Some new pajamas.

A great book
Of course, texts, emails and social media are fantastic ways to reach out, too. Keeping up with the current modes of communication can make it easier for grandkids to connect with their grandparents. The medium doesn't matter - it's the communication and relationship-building that counts.
Sending and receiving letters, however, adds a more personal touch and teaches kids how to use the good old-fashioned postal service. Learning to type or handwrite a letter and mailing it is a great skill for young children to learn and practice.
Parents, if your kids are fortunate enough to have attentive grandparents who mail them notes or gifts, always remind your kids to acknowledge what they receive. A present should always warrant a "thank you" in response (written is best). Instill the values of gratitude and good manners in your kiddos from an early age while building a valuable, loving relationship with their grandparents that will last a lifetime.