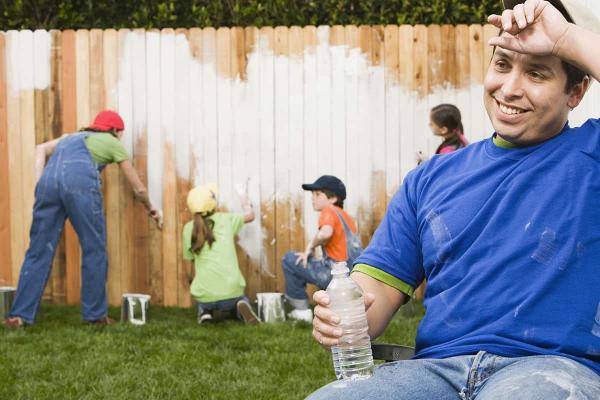 Spring is around the corner, and the bulbs are popping their little heads up. Now is the time to plan a family spring yard cleanup. With the proper PR and prep work, everyone will have fun being outside and making your space beautiful, functional and productive. Here's how to get started and what to include:
1. Select your date
Mark it on the calendar and start talking it up. Remind everyone of the fun the yard provides for them. Put it on the calendar for everyone to see.
2. Make a checklist
After dinner, discuss what everyone thinks needs to be done. Have your own list ready to share. The list should include pruning, planting, fertilizing, mowing schedule and early indoor propagation. Also any outbuildings and garages should be included for consideration since they house most of what you will need for work and fun in the yard.
3. Give gifts
Prepare a basket of goodies for each family member. You can go to a thrift shop and find used baskets, work gloves and garden tools or find them at a local discount store. Include seed packets, peat pots and a list of regular chores for them so that they can take part in maintaining the yard.
4. Plan a reward
For those who might not get excited about the project, include a special day after the cleanup. Make it a cookout and picnic - a chance for them to relax and survey and appreciate all the hard work.
What to include on the checklist:
1. Clean up and prune old growth
If you live where winters are harsh, cut away old dead limbs and growth. Prune bushes and roses. Divide good perennials.
2. Clear out the unusable
If you have perennials, sort them out and get rid of the ones that are no longer productive. Also get rid of old annuals.
3. Make the beds
Rake and clear out old brush and leaves from around trees and in garden beds.
4. Consider composting
Composting is a great way to use old vegetation and table scraps, turning them into beautiful growing compound. You don't have to buy a fancy machine or gadget. Use salvaged metal fencing or pallets and build a simple compost area. Turn regularly and you will be amazed at the beautiful black soil you will produce, rich in nitrogen and ready to work for you.
5. Look for damaged lawn
If you have troubled spots in your lawn, rake and prepare it for seeding. Work in compost to enrich and help in seed germination. The rule of thumb for planting grass seed is after the forsythia blooms.
6. Sweep
If you have sidewalks or stone pathways, give them a good sweeping. This is a great job for little ones, and you might even invest in little kid-sized brooms for them.
7. Fences and trellis
If you have wooden fencing or trellis that need maintenance, scrape and paint or replace any broken parts. Painting is another kid-friendly chore.
8. Garage
Set a family member who is strong in organizational skills to work on the garage. Get rid of things that aren't needed. Organize tools so they are handy and easy to grab and go. Get sports equipment cleaned up and ready to go for the season. Give it a good sweeping and hose it down.
9. Propagation
Here's the fun! Have each member of the family choose one food item and one beautification item to grow. Whether it's tomatoes and basil for sauce or corn and peas for succotash, grow a few things to eat. Then make the yard pretty with blooms or shrubs. Let the little ones sprinkle wildflower seeds and make their own bed to care for. They will love the surprise of watching the flowers bloom. Start early by germinating indoors and then have a transplant day where things go in the ground. Make the plants their responsibility and have them plan a meal with the harvest.
10. Mowing and maintenance
Plan for regular mowing and a weekly 30-minute cleanup to keep your outdoor space a paradise.
Working together as a family is a great way to bond and teach responsibility. Make it fun and finish with a treat. Serve the first ice cream or hot dog of the season to kick off a great family fun-filled summer.