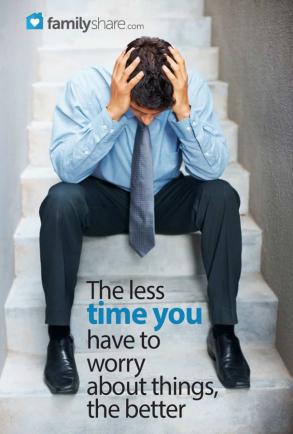 Unemployment is no cake walk for anyone involved. In spite of the anxiety and frustration it can bring, I won't deny that, in the end, I learned a lot from our unemployment experiences, and the knowledge I've gained has been beneficial in leading us through the next unemployment. If you find yourself in this situation, here are a few things I've picked up along the way that just might make enduring this trial (and with class!) a tiny bit easier for you to do:
1. THE BEST THING YOU CAN DO IS GET BUSY
When we've experienced a job loss, the best thing we've done is getting right back in the game. We've even gotten to the point that we start looking the same day we get the news. If you're the supporter of a spouse who's lost their job, you should get busy too. The less time you have to worry about things, the better.
2. GOOD JOBS DON'T COME ALONG OVERNIGHT
When my husband lost his first job, I pressured him non-stop to get another job fast. I realized my mistake when he took the first thing he could find, and it turned out to be a sales position which never paid him a cent. It was wasted time in our 'good' job finding effort, and I didn't repeat that mistake again. Give your spouse some time to work out the details and find a job that will last.
3. YOUR KIDS NEED TO KNOW THE TRUTH
Hiding the loss of a job from your children 'in order to protect them' may not be the best idea. They're smart little people and they'll pick up on it. If you aren't upfront with them about what's happening, you may end up causing them more worry than is necessary. Tell them what's happening. Assure them of your resources; your family and friends. Remind them that come-what-may, you will get through this together. Let them know that there's no need to worry - that you have funds set aside for things like this - and that nothing is going to change anytime soon. Then, hide up in the bedroom, find those 'funds,' and get to work.
4. FIND YOUR OWN PERSONAL SUPPORT SYSTEM
Losing a job is no ideal scenario for the employee, but it's not easy to be the support of that employee either, especially if you're totally dependent on that income. You might feel you have no control over what's happening or when you'll be receiving income again, are forced to put on a happy face for the children, and still keep the house running. A good friend that won't cast judgments is the best gift you can give yourself at a time like this. Cry (or scream) with them on the phone, then put your smile on and get back out there.
5. YOU MIGHT HAVE TO GO THROUGH THE WORST CASE SCENARIO, AND YOU CAN THANK FATE LATER
. Losing a job can mean lots of scary things from losing a home, to moving, to losing friends. I'm not going to lie, none of these things are fun or easy to overcome, but I will say this: You can make it through! You might lose that house. You might lose your cars. You might end up in a rental with a Junker in the carport. You might have to give up your cable and your fast internet. All that and more - but here's the life lesson: Life can be really good anyway.You'll make many awesome memories in that rental, and you'll laugh later about the broken down car, but you'll make friends while you're looking for a carpool, and you might just end up liking some of the life changes you'll make along the way. It's a great lesson to learn; it turns out that sometimes the worst case scenario isn't so bad after all.
6. IT ENDS
If there were one thing I could leave with you to ease your burden at this time of stress, it's this: eventually, you WILL find a new job. It may not be as quick as you'd like, or the job you'd prefer to end up with, but somehow - in some way, you'll get through it. And if you can do it together, as a team, you'll end up stronger for it. And after all, that's what life is all about. Learning to endure trials with class, and finding out what really matters along the way.