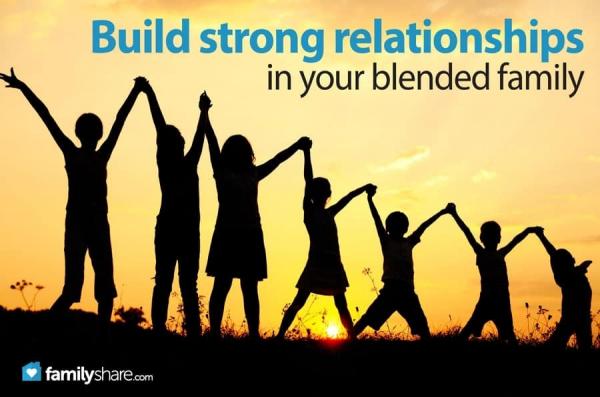 "Synergizing" a blended family
An engaged couple - both previously married - came to my office for therapy, worrying about how they would blend their families after their wedding. Both had little girls (Jill and Sally), age 5, that were very different. How would the children ever become friends, let alone sisters? And the husband-to-be had a teenage son and the wife an 8-year-old daughter to add to the mix. Could blending this family ever work?
Discuss the problem and develop a plan
The couple talked about the problem and came up with the following plan:
They prayed fervently, asking God to help blend their new family.

They planned a time for each of the children to get to know each other.

They identified each child's strengths.

They planned activities to highlight each individual's talents.
Build relationships
As the children began to build relationships, the couple held a brain-storming session with the kids to come up with ways they could work together:
Each member of the family listed the things they were best at.

Each set a goal to find ways to share their abilities with the family.

They prayerfully asked Heavenly Father to help them.
This is what happened:
Jill loved to ride her bike from morning until night. She hadn't needed training wheels for over a year. Sally's bike had training wheels, but she was afraid to ride it, even with the training wheels. "It was too tippy."
On the other hand, Sally loved to dress up and dance. When her mother turned on the music, Sally could twirl and leap through the room. Jill had never danced before. Music had not been a part of her life. Both parents encouraged the girls to enjoy their own talents and try something new. It wasn't long before Sally began to ride her bike - just in the driveway at first, and then down the path near her house. Soon Jill - dripping in costume jewelry and twirly skirts - looped and twisted to the music. Both Jill and Sally learned new skills and their self-esteem grew.
Jake, age 13, didn't know if he would like his new family or not. Kathy, age 8, felt the same way. She also worried about her new school. Because of the family problems she'd experienced the past few years, she was reading below grade level and had to practice every day as part of her homework.
One day Kathy sat on the couch, struggling with the new words in her library book when Jake came into the room. "I remember having a hard time reading that book at first, too," he said. He sat down beside her and listened. "This is my favorite part, coming up," he said as she got further into the book.
Both parents watched and gave a prayer of thanks.
Soon Jake and Kathy became homework buddies - Kathy's reading improved, and Jake told his mother he liked having a new sister and friend.
Synergizing worked because
The couple developed healthy communication skills.

They planned ahead.

They included the children in the process.

Prayer was always a priority in all they did.
These synergizing ideas can work in any family and might be fun to try with in-tact families and single-parent families.