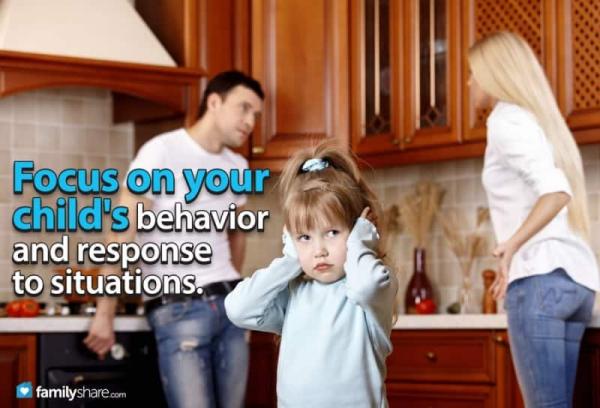 Divorce is a big adjustment for a child and doesn't end their relationship with the other parent. Your own emotions or your ex-spouse's behavior may make it a challenge to talk with your child about the other parent. Here are some tips:
Don't alienate
The bond your child shares with your ex-spouse is a parent-child bond separate from the behavior your ex-spouse chooses. Discuss concerns with your ex-spouse directly, rather than with your child. Focus on your child's behavior and response to situations, rather than what your ex-spouse has done.
Was that a good choice or a bad choice? How do you know? What were the positive outcomes? What were the bad consequences? How did that make you feel?
Parental disagreements
Children need to know that disagreements between parents are not their fault, and unrelated to parental love for the children.
"You don't have to worry about that. It is something that your mother and I will work out. We both love you, and we will always love you."
Realistic expectations
Children naturally want their parents together, and may ask you about when you are getting back together.
"We both love you very much, but we will be living in separate houses from now on."
Focus on the positive
While your children have the right and need to grieve, you can help calm fears about the future by focusing on the positive aspects of their divorced life.
"There won't be as much fighting, and we will get more one-on-one time together."
New relationships
Your child may tell you about the new relationships of your ex-spouse. It is important to remain neutral and keep your personal opinions out of the mix. That new person will be a part of your child's life, and it is better to focus on the good things that make your child comfortable while with that person. This will also help your child know that you are available and able to help them with any issue, even ones hard for you personally.
"What's fun about her? What do you like about him? That's nice that he helped you with that project. That's great that she listens to you."
Ending your relationship with your ex-spouse does not mean they are deleted from your child's life. Your child may still want to talk about the other parent, or issues may come up from experiences during visitation. Using age-appropriate language with a positive focus will keep things focused on the child and model healthy interaction for them.