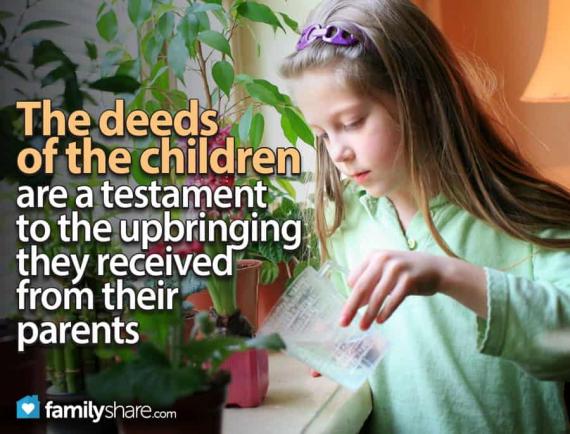 Children learn responsibility by becoming independent through encouragement from parents, from their parent's examples, and realizing the job has to be done by someone, why not me?
When our children were young they had regular chores around the house. We made a chart and stapled pockets on it. Their work assignments were listed on cards. Each week they moved the cards to another pocket to rotate their chores. But I had to constantly remind them to complete their tasks.
My husband and I discussed ways to solve the problem. We decided to go six days without reminding them of their chores. We would not say a word about cluttered bedrooms, taking out the garbage, or sweeping the floors. There would be no nagging to set the table, clean the bathroom, or put their clothes in the laundry. Each day I placed the sack of garbage against the cupboards on the floor. No one noticed.
Each night before dinner I announced, "Dinner in 10 minutes." When we sat down to eat, there were no plates, glasses, or silverware on the table, only a hair brush and the Seattle Times. Then my prepared dinner of spaghetti and a bowl of green beans were placed on the table. My husband and I remained silent. The children looked at each other in bewilderment then Scot questioned, "Who's s'pose to set the table?"
Jill looked at the chart, "I guess it's me." She quickly took care of it while we waited. No one cleaned the bathroom. The floors were not swept and went unnoticed. Not a bed was made, or a sink scoured. The garbage was becoming odoriferous. What if someone came to visit? We would have to live with the humiliation or try to respond to visitors by going outside to talk.
Six days passed. We gathered in the kitchen next to six smelly sacks of garbage. Our children plugged their noses, then almost in unison, "Ooo, who's on the garbage?" They all checked the chart but to our surprise all four of them grabbed the garbage bags and carried them out. After dinner, we took a tour of our home. We talked about the untidy bedrooms, the floors that hadn't been swept, and the underwear piled next to the tub. They had hardly noticed.
Together we made rules. They agreed they would clean their bedrooms and do their chores without being reminded. If soiled clothes didn't make it into the laundry baskets, they wouldn't get washed. The results of not doing their jobs would be no T.V. or playing with their friends after school. They all agreed. The burden of constant reminders was lifted, and our children learned responsibility.
The rewards of working without being told brought self-gratification, built self-esteem, and ensured accountability. They learned, "The work had to be done by someone, Why not me?"