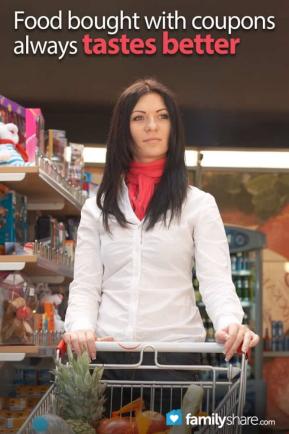 My name is Jessica. I am a couponer, and I am not ashamed.
I enjoy saving 75 cents on a gallon of milk, $1 on a pack of yogurt and several dollars each month on diapers. Coupons save me at least half on what I buy at the grocery store.
My family of six eats healthy, mostly homemade meals. I don't have a freezer full of frozen pizza pockets and TV dinners. I don't dive in dumpsters for coupons or purchase coupons online. Still, my monthly grocery bill is a fraction of what is considered normal. At the grocery store, I have never filled more than one cart, cleared an entire shelf or bought 632 toothbrushes at once. I just save money.
Here are a five ways you can use coupons without being extreme.
Use a Sale-Coupon Matching Service
The art of saving money with coupons begins with this basic formula: sale + coupon = big savings.
Don't spend hours scouring the store sale ads trying to find the best deals when there are free services that will do the work for you. There are literally thousands of companies out there who would love to assist you in matching up current sales in your area with local coupons.
I prefer Grocery Smarts because it's free, easy to use and has printable grocery lists. Once a week I log on and browse my favorite grocery store's list, keeping my eyes peeled for the 5-star deals - coupons I'll need to match up with the sale. A few clicks and my list is printed!
Stop Clipping
If you get the Sunday newspaper, it's a common habit for those who use coupons to take a pair of scissors and cut the entire coupon insert apart. I hereby give you permission to stop.
Clipping is unnecessary and time consuming. Consider a clipless coupon method instead. Rather than cutting the coupons and crossing your fingers you will actually use them, file the entire insert. Date and assemble them chronologically by the day they came in the paper.
When you are ready to go grocery shopping, build your grocery list to take advantage of sales with your coupons. Access your coupon insert files and cut the coupons you need that week. You'll shop faster without having to wander around the store checking for good deals. Also, the coupons you've clipped will not have expired.
Use E-Coupons
If you like the idea of coupons but don't want to bother with getting a newspaper or even printing them from the Internet, explore e-coupons.
Any e-coupons you've loaded onto a shopper's card are automatically applied at the register when you check out. For most of these, there is a limit of one coupon per customer. Like regular coupons, e-coupons also have an expiration date. Coupons take about an hour to be available once you load them and cannot be combined with any paper coupon.
My favorite place to find e-coupons is my local Kroger store's website. They normally have over 150 e-coupons ready at any moment to load onto a Kroger card. E-coupons can also be found at Shortcuts.com and Cellfire.com.
Find coupons in the store
These days, coupons are everywhere. The next time you shop, keep an eye out for coupons. You can find them stuck to products, being ejected from little machines or even in tear pads on the shelf.
Not too long ago, I saved half on a 32-ounce tub of yogurt just by peeling the $1-off coupon from the top of the lid. My kids go through yogurt like crazy, so I bought three tubs.
Ask for Coupons
Write a letter or an email to companies and manufacturers asking for coupons. This method works really well for people with lots of dietary restrictions or allergies. It's also effective for those who are very brand loyal.
If you can only use one brand of toothpaste or can't eat 90 percent of the foods that regularly have coupons available, why bother? Instead, focus on those items you can eat and begin sending letters to the company's headquarters, praising their products and asking if they can send you coupons. In my experience, you generally receive several months' worth of coupons from one letter.
Along the same lines, if you regularly use a product and suddenly find it unsatisfyingly different, write a polite letter to the company, letting them know about it. Recently, I purchased a box of Huggies diapers, and when the tabs began coming off each diaper, I called the number on the box to let them know. About a month later, I received several coupons for free boxes of diapers.
It is possible to find a workable, sustainable way to use coupons - no dumpster diving required. Using these five tips, your $5 in coupon savings now will become $20 or even $50 in savings later.