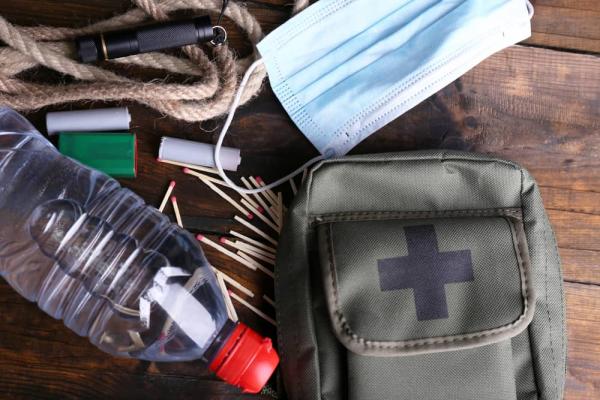 Frigid temperatures, 51-car pile ups, people stranded in gorges overnight in subzero temperatures, etc., it is more important than ever to be prepared! If you are traveling anywhere you will want survival items with you. These 72-Hour Survival Kits may be useful not only for yourself but for others as well.
I assembled our 72-hour kit and car emergency kit a few years ago and so far we have used them over 15 times for important situations. As you will see the kits I created have been tested, tried, and proven!
Many people have their kits in their homes. Yet, I thought long and hard about where I wanted our kits. We live on a fault line and the most threatening event that could happen would be a large earthquake. Unlike many other natural disasters, there are no warning signs for earthquakes so having the 72-hour kit near my husband, our boy and I would be virtually impossible if we only made one (since my husband is at work and traveling much of the time). So I made two and decided to keep them in each of our cars so they are always nearby.
When I set out to make our kits I had no idea that they were going to benefit so many other people, not just ourselves, and that we would be using the kits multiple times to help others in cases where there was no natural disaster.
Experience #1
My husband was traveling in a remote area with no cell reception. He saw a car that was broken down with a few people in it. He stopped and they needed to get to the next town to use a phone. He told them he would give them a ride. They had been stranded for a while and he asked them if they were hungry and thirsty. They said they were so he pulled out the 72-hour kit, gave each a few bottles of water and some granola bars, trail mix, etc. and they ate and got re-hydrated while he drove them to the next town.
Experience #2
My husband was photographing in a national park when a cold front came through and that night the temperatures dropped significantly. He was not planning on -20 degree Fahrenheit temperatures at this time of the year and did not have enough gear/clothes to keep warm enough. He was able to get into the 72-hour kit and pull out sweats and a heavy sweat shirt to layer up. He also used the blanket that we carry with our 72-hour kit and he was able to continue his work without catching cold.
Experience #3
We were driving home from Page, Arizona to Utah when a snow storm hit. My husband was in shorts and I was in flip flops. He had a feeling when we stopped for fuel that he should be prepared in case anyone needed his help so he changed into some jeans, got out his gloves, and put on his winter boots before we pulled away. It wasn't even 10 minutes later that we saw a woman in a van who had slid off the road (doing a 180) and was a couple of feet away from a huge drop off. We hurried and pulled out our car emergency kit and got the tow strap. My husband ran and put the strap on her car and was able to pull her to safety. He was prepared with gloves and pants and the right kind of shoes to help her.
We have also had a few instances (not really emergencies) but times when we needed some cash (all we had on us were credit, debit cards, and/or checks) and we were able to pull the cash out of the 72-hour kit. Once we forgot the diaper wipes (heaven forbid) and were able to use the 72-hour kit wipes.
What I have come to realize is that our kits are also a convenience kit, a save money kit, a save yourself time kit, a help others kit and most importantly a survival kit.
Here are eight guidelines when making a kit
1. Get a durable bag that will hold the weight of the kit
(preferably something you can strap to your back and carry a long distance if you need to).
2. Set a time once a year (a date you will remember) to look through the kit, replace expiring items, check batteries, and update any documents you have.
3. Change out the clothing if you lose or gain weight
4. Add more food and items as you need to keep up with the growth of your family
Replace anything you use.
5. Customize the kit to your needs
My husband is always hiking and has gotten very close to rattle snakes. I have a snake bite kit in both our 72-hour kits. A snake bite kit is not necessary for most city dwellers but if you have specific personal issues or are often in abnormal situations take those into account. For example, if there are medications you will need, inhaler, insulin, etc. you should make sure you have current unexpired extras with you in case of emergency.
6. My experience after all the research I have done is that people want to make a 72-hour kit but keep it as small as possible.
These individuals cut out things that may be necessary because they don't want the kit to be bulky. If you need to, get a bigger bag or just use two bags. I like to go by this saying, "It is better to have and not need, than to need and not have." And that is especially true when an emergency arises.
7. Use Ziploc bags and put anything that could break, leak, melt, etc. in them
8. Provide a backpack or portable container that each member of the family can carry in case you get separated.
List of Contents of 72-Hour Survival Kit ( I used SEVERAL lists, my own thoughts, and YouTube videos as my resources).
Real Blanket - we put this on top of our 72 hour kit in the car.

Baby wipes/moist towelettes

Dust masks

Sunglasses

Water sanitation drops or bleach

Knife

Twine/rope

Compass

Feminine supplies

Sunscreen

Medications

Bayer aspirin

Tylenol

Rain poncho

Candles (long lasting ones)

Bug repellent

Toilet paper

Razors

Hygiene needs: small shampoo, soap, hand sanitizer, toothbrush and toothpaste

The complete list of items is available here.
These don't have to be expensive: I gathered coupons, watched for sales. I used two of our heaviest duty bags that would work as back packs in case we had to leave our vehicle and began assembling them. I was able to get many of the things in the kit around our house or for 99 cents or less at Walmart, Dollar Tree, Target, etc. Some things you will need to spend some money on, i.e. knife, tow rope, flares, etc. But, if you shop smart you will not need to dish out a fortune for these kits.
By being frugal and using items you have around the house, each kit will require an investment of about $40 to $70, plus any cash you put into it for emergencies.
I hope these kits prove themselves useful for you, your family, and even people you meet who need assistance like they have for us.
Editor's note: This article was originally published on Anita Fowler's blog, Live Like You Are Rich. It has been modified and republished here with permission.