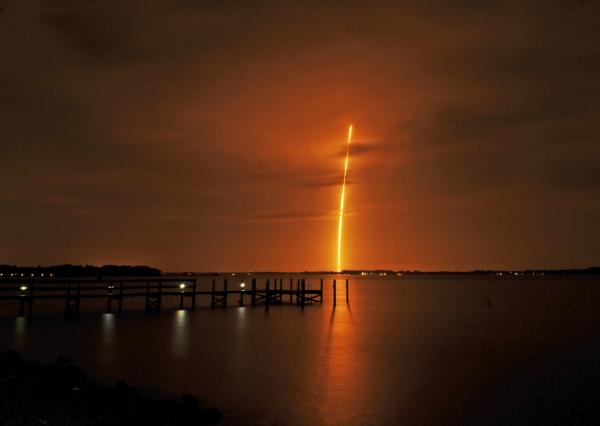 On Monday night, SpaceX - the short name for Space Exploration Technologies Corporation, an aerospace manufacturer headed by entrepreneur Elon Musk - successfully landed a rocket that had been launched into space.
Musk originally thought the Falcon 9 rocket's landing had failed since there was a giant explosion at the launch site in Florida.
"But then he heard from mission control that the booster was standing, in one piece," The New York Times reported.
This is a significant step for SpaceX, as it comes about six months after a previous SpaceX rocket exploded after liftoff, BuzzFeed News reported. That rocket, also the Falcon 9, had been carrying supplies and a docking port from NASA for the astronauts at the International Space Station.
The damaged rocket was then repaired and updated to become the new Falcon 9 that was recently launched. It was reported to work "flawlessly" by The Times, with the rocket's lower temperatures improving its performance.
Because the rocket successfully landed Monday night, Musk and his team realized rockets can be "refurbished and relaunched," reducing the cost of space travel, The Times reported. This is different from most other rockets, which "are launched just once, the boosters falling back to Earth as expensive junk. Making spaceflight more like air travel, with rockets capable of being refueled and sent up again, is essential for SpaceX's long-term goal of sending people to Mars," The Times reported.
People may be psyched to hear that traveling to Mars or outer space may be possible in the near future. But before that happens, those looking for financial tips can learn another lesson from SpaceX's recent success - specifically, that reusing something can reap financial benefits.
In fact, reusing at-home products can help people save money.
"When you are living a frugal lifestyle, sometimes the best place to save money is inside your home," U.S. News & World Report explain. "You can clip coupons and bargain shop in an effort to save money. You can also find simple ways to repurpose items in your home to save money."
One of those simple ways includes taking the water used to boil pasta to water your plants and flowers, reducing your need to buy water bottles or increase your water bill, U.S. News reported
You can also use cereal bags as wax paper to protect food you're freezing or putting in the refrigerator.
U.S. News also recommends repurposing your clothes to save you from buying new household items.
"With a little crafting, those stained or too small T-shirts will make great grocery bags or backpacks," U.S. News wrote. "A quick look at Pinterest will give you plenty of ideas on how to turn those shirts you will no longer need into something useful while also saving you money."
This is a process that some call "upcycling," The Telegraph reported.
"'Upcycling' is the smart living buzzword people use for making cushions out of old jeans or vases out of jam jars," The Telegraph reported. "The idea is to increase the usefulness of something you might throw away."
For example, people can take fruit pulp from a juicer and mix it with other foods, like soups, to thicken the consistency and increase the fiber. Pulp can also be used to make "fruit leathers by spreading it out thinly on a tray and baking on a low heat," The Telegraph explained.
Those who own dry floor sweepers know the struggle of dirtying the sweeper sheet and having to buy a new pack, which isn't always cheap. The Telegraph recommends putting a sock on your sweeper, since it'll pick up dust and debris just like a sweeper sheet, but won't require you to go out and buy a new pack of expensive wipes.
Lastly, The Telegraph recommends using vinegar as both a cooking tool and a cleaning product. When mixed with water, vinegar can help sterilize chopping boards and cooking tops.
And if you're not one to reuse items, the United States Environmental Protection Agency suggests donating those items to someone else, like a local church, community or thrift store, since they can surely help someone in need and the community.
"Not only will you be reducing waste, you'll be helping others," the EPA explained. "Local churches, community centers, thrift stores, schools and nonprofit organizations may accept a variety of donated items, including used books, working electronics and unneeded furniture."