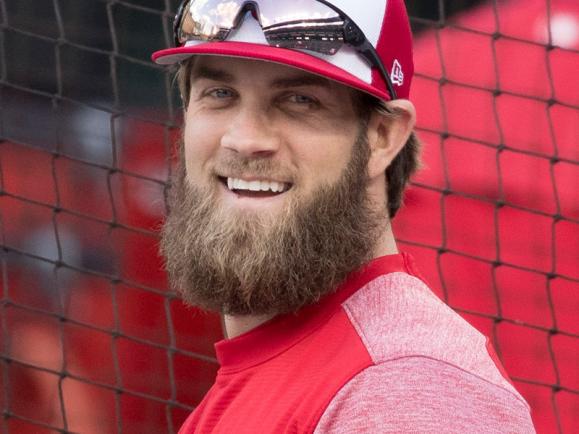 Bryce Aron Max Harper is an American professional baseball right fielder for the Philadelphia Phillies of Major League Baseball. He played for the Washington Nationals from 2012 through 2018 and was touted as a "five-tool player."
Early Life and Career
Harper graduated from high school early to attend the College of Southern Nevada, where he won the 2010 Golden Spikes Award. The Nationals selected Harper as the first overall pick in the 2010 MLB draft. He made his MLB debut with the Nationals on April 28, 2012, at 19 years old. Harper was selected for the 2012 All-Star Game, becoming the youngest position player to perform in an All-Star Game.
Harper won the National League Rookie of the Year Award in 2012 and tied for the NL lead in home runs in 2015. He was named the NL Most Valuable Player for 2015 unanimously by the Baseball Writers' Association of America. At age 23, he became the youngest MLB baseball player to win the award. As a free agent during the 2018–19 offseason, he signed a 13-year, $330 million contract with the Phillies, the richest contract in the history of North American sports until being eclipsed shortly after by Mike Trout. He won his second NL MVP award in 2021 with the Phillies.
Harper is a member of The Church of Jesus Christ of Latter-day Saints. Though serving a mission is strongly encouraged for male members between 18 and 26, it is not required. Harper decided his mission rested on the diamond. In a 2016 interview, he said, "Coming up to the draft and trying to make that decision, I always thought that my Heavenly Father upstairs always just wanted me to be a walking Book of Mormon, you could say. I knew that I could touch a lot of people's lives playing and trying to be the best member of The Church of Jesus Christ of Latter-day Saints that I can be on and off the field."
Religion and Marriage
Harper and his wife, born Kayla Varner, met in high school. Kayla, also 26, was a star soccer player at Green Valley High school in Henderson, Nevada, and went on to play for OSU. Around 2015, the relationship took a brief skid, at least publicly, when the couple called off their wedding. However, things eventually worked out, and a year later, they got married at the giant San Diego temple of The Church of Jesus Christ of Latter-day Saints. Their first child, Krewe, was born in Las Vegas on August 22, 2019, while Harper was with his wife on paternity leave. Their daughter, Brooklyn, was born in November 2020.
Both Harpers are devout Latter-day Saints and regularly shout out the Church in social media posts and interviews. In the past, he's shared photos with Elder Uchtdorf, a post featuring his scriptures, and he's even given President Nelson one of his jerseys. In 2020, Harper donated $500,000 to COVID relief and shared a brief statement on Twitter. The statement reads, "Through the power of prayer and helping each other with pure intent and love, and we will get through this TOGETHER! Faith in our Lord and Savior will help heal the world."
Harper abstains from alcohol. His response to a reporter asking him about alcohol, "That's a clown question, bro," went viral in 2012. He's generally been embraced as someone who can break down Latter-day Saints stereotypes and make the Church more accessible to modern youth.
Religion and Family
Since Harper is not allowed to participate in official Spring Training activities until the lockout ends, he can spend more time with his family, which is one of the only good things to come from this work stoppage. Recently, the Harpers took their kids to the Florida State Fair and ended up finding his jersey hanging up at a booth that offered what looks like a baseball-centric game. Harper's wife Kayla documented the father-son moment on her Instagram Stories.
For Harper, family is paramount. After Krew was born in August 2019, the first-time father crushed a home run in his first game back. Then, on his son's first birthday in August 2020, Harper crushed the second-longest homer of his career, a mammoth 470-footer with an insane 109.6 mph exit velocity. Last year, during Spring Training, Harper showed off the toddler's killer swing.
One theme emerged when the Phillies introduced Bryce Harper in Clearwater, Fla., in 2019, as he discussed his decision and vision for his next 13 years in Philadelphia: family. He spoke of his desire to raise children in his new city with his wife, Kayla. Six months later, the Harpers welcomed their first child, Krewe. Harper told The Athletic, "I'm very excited to have a son in this world and having the relationship that I do with my dad; hopefully, he and I can have that relationship and be able to have some fun times."
After Krewe was born, Harper spoke very highly of his wife, Kayla, saying, "She's one of the strongest women I know. She could probably do it without me, and she's so strong. She's just a fighter. Being able to be there, doing whatever I can for her. She's amazing. It's very cool to be in a professional sport that they allow us to do that." Harper also said that becoming a dad kept life in perspective. Individual and team results still matter, but parenthood creates a new dynamic.
Harper said, "I don't go home happy every single night. My wife knows that, and my family knows that. When you get home, it's different. You walk out the doors, and the game's over. There's nothing I can do. I can't think about going 0 for three against (Madison) Bumgarner or whatever it is. Once I walk out the doors, I'm just Bryce. At a younger age, I definitely took it home with me through the doors a lot more. But the older I've gotten, it's kind of like I want to forget as fast as possible and get going the next day when I get here." Harper emphasized that once he leaves the stadium, he's a dad, but he's a professional player who has to perform on the field.
Bryce Harper is a member of The Church of Jesus Christ of Latter-day Saints who openly speaks about his faith. However, he's not what some may call a typical member of the Church. Harper opens the door for younger Latter-day Saints to embrace themselves while also holding on to their religion. Family is another big part of Harper's life, as he openly gushes about his wife and children on social media. With the support of his family and faith, Harper will continue to grow and become a better baseball player.