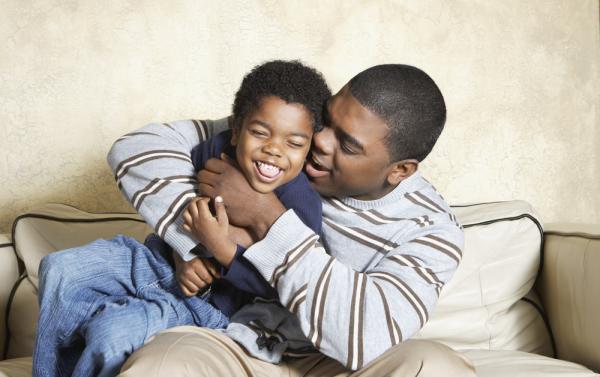 When I was a kid, my father always used to take me to the model airplane track to see small prototypes tested. These prototypes were led by a guide, and were able to do takeoffs, stunts, flips and landings. While my father watched the show, my thoughts revolved around the importance of his presence beside me. Furthermore, the gentle manner in which he treated my mother was a great example to me of how I should treat her. His smile and his respectful and friendly demeanor were my model of how I should treat others. Whenever we made mistakes or broke family rules, his attitude of firmly showing his disappointment without physically or verbally abusing us was enough to foster learning and improvement in a positive way.
1. The reflection in the mirror
Often, as we grow, we see in our children our own past. It's common to hope that our successes become their successes and that our weaknesses never occur in them. With a sense of protection, we surround them with rules and trap them in our security network, sometimes even hindering their own system of self-worth and value. American educator Henry Eyring said, "In [preparation for greater responsibilities], 'show me' counts more than 'tell me.'"
2. Trust in God for your son
In simple ways, a father can help his son feel capable of influencing his own life. And, possibly, in the future, he will continue to bless the lives of others.
When times of making difficult decisions arise, a father's trust in God and in those who are around his son to help with hard decisions will help him have confidence that his son will be inspired to make a good decision.
3. Trust that your son will do what is right
Whenever opportunities for a son to serve others occur, a good father should accompany him to observe his attitude and disposition. When a father has the opportunity to be alone with his son in a time of helping someone in need, it can be a significant and touching moment.
I will never forget the special opportunity I had of visiting a family once a month with my father who brought groceries to them to help out during hard times. I can vividly remember the feelings of friendship and gratitude they had for my father.
4. Genuine discipline and praise
Our brain is a strong source of processing facts around us quickly and efficiently, but sometimes it can let us down. Having experienced many situations of frustration and weakness, all of us let feelings of disappointment and sadness build up within us, ready to burst at any moment. This leads to much of the evil we observe in today's society.
When a father sees his son involved in a moment of weakness or a mistake, it's easy to act impulsively and immediately apply the classic punishments and grounding. These actions generally aren't the right solution for the child, however, and often are simply reactions in moments of weakness and frustration. If effort is made, when there is a correction that is truly necessary, a father will be inspired to handle it in the best way possible. After making a correction, demonstrating even more love and genuine care allows the child to see the trust their father has that they will overcome their weakness and continue improving.
The ability to make up for poor actions and improve weak parts in our behavior and character is strengthened when a father who disciplines also does what he teaches. By doing so, a good father becomes a great role model for the future for his own family.
Translated and adapted by Vaughn Christensen from the article, "A importância do exemplo da figura paterna na vida de um homem" by Bruno Morise Silva.