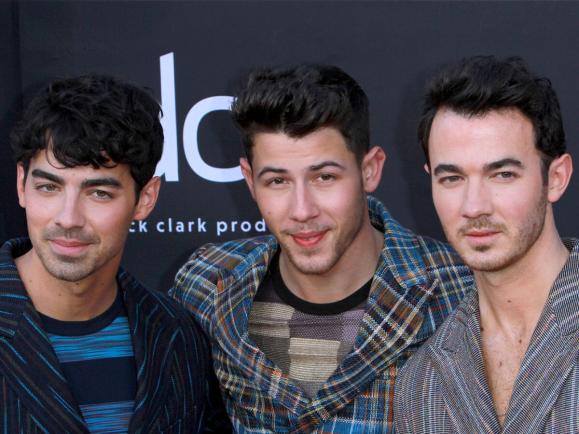 Things have certainly changed for the Jonas Brothers since their boy band days began in 2005. With the birth of Nick Jonas's daughter, Malti Marie, in January 2022, all three brothers have now become fathers. The trio also reunited their band in 2019 and is touring again. They joined SiriusXM radio and revealed the "unspoken rule" that has come about since becoming dads: they don't offer each other parenting advice. "We really don't give each other advice about family. It's kind of like an unspoken rule. We just do our own thing; do it your own way," said Kevin Jonas, 35. He and his wife Danielle married in 2009 and have two girls: Alena, 9, and Valentina, 6. The brothers admitted that the rule helped to keep their "working relationship" going. "I think we all sort of understand that and just say, 'You do your thing. I'm just gonna show up and be Uncle Nick,' and that's how it goes," said Nick Jonas. 
 As of right now, all the brothers remain "girl dads." Joe Jonas, 33, married actress Sophia Turner in 2019, and they have had two girls: Willa, born in 2020, and a sister whose name has not been revealed, born in 2022. Nick Jonas, 30, and wife Priyanka Chopra Jonas's daughter was born via surrogate and spent her first 100 days of life in the neonatal intensive care unit (NICU). "I didn't know if she would make it or not," said Chopra Jonas when reflecting on the time. Chopra Jonas, 40, received some criticism for choosing surrogacy, with some accusing her of "renting a womb." However, Chopra Jonas revealed that she'd had "medical complications" that made surrogacy a "necessary step." "Our surrogate was so generous, kind, lovely, and funny, and she took care of this precious gift for us for six months," she said. All three families have been very protective of their children's privacy.
 After revealing their "unspoken rule," parenting expert Rachel Simmons discussed the wisdom of such an approach on "Good Morning America." "When somebody criticizes your parenting, it is so hard not to take it personally. And when that is coming from a sibling that you have a history with of all kinds of arguments, it's almost impossible not to have that turn into a conflict," she said of unsolicited parenting advice from siblings. She stated that unsolicited advice could come from anywhere and gave tips on how parents can deal with it when it is given. She shared that parents need to find ways to thank people for their concerns but also to demonstrate that they are comfortable with their own parenting style. She also cautioned against giving advice when it's not asked for. "We really just have to acknowledge that there are as many different ways to raise kids as there are kids. It's not our job to parent other peoples' kids. It's our job to parent our own children," she said. The Jonas Brothers' next album, entitled "The Album," will be released on May 5th.