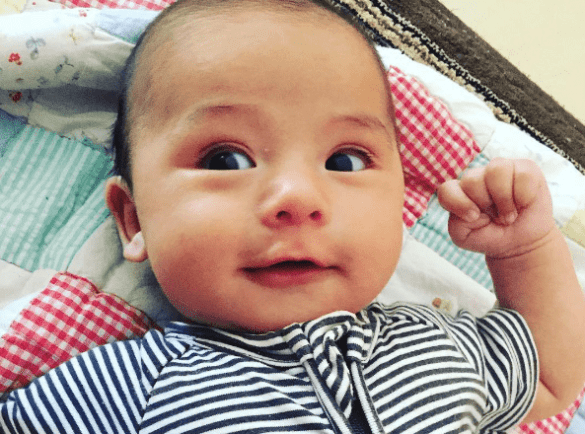 If you are a mother, you know very well that silence means trouble. If you don't hear your children, they must be getting into some sort of mischief. This is what a mother of two little boys thought when she went looking for her two supiciously quiet boys. Instead of mischief, she came upon a unique moment between brothers.
In the other room, she found her older son consoling and caressing his younger baby brother.
Even more tender is this special component: the baby, Thomas, has terminal cancer, and his older brother was calming him.
On her blog, tells how her younger son Thomas was diagnosed with cancer at 11 weeks old. Three weeks after that fatal diagnosis, the little one was still fighting.
The sweet boy was diagnosed with Malignant Rhabdoid Tumor (MRT). It is an extremely aggressive cancer which attacks the kidneys and central nervous system. It's usually found in children under two years of age.
A rainbow baby
Thomas came just months after Sheryl lost a pregnancy in 2015. He was her darling rainbow baby (a term used to refer to infants who arrive after a miscarriage).
On her blog, this mother details the sadness she felt when she learned that she would soon lose another child. "The irony of life has hit my family so hard and nothing makes sense," she wrote on March 4. " It feels like yesterday when I wrote about giving birth to our 'Rainbow Baby' Thomas and here I am writing about his impending death."
The photo that became viral
Just a few weeks before this family would lose their darling Thomas, Sheryl noticed that everything was very quiet in her home. She assumed her eldest son William was up to some mischief with his little brother. However, what she found warmed her heart.
Snuggling on the couch, William was comforting his little brother and whispering in his ear "Kuya (big brother) is here, everything is fine." You can see the tangible love between these brothers in the photo.
Sweet little Thomas passed away May 8. During his short life, he had a wonderful angel brother who looked after him and was his faithful protector. William knew that his brother wouldn't be on the earth for very long, and was always attentive to comfort him when he cried, and helped in whatever way he could.
Enduring an imminent loss
While Thomas was sick, Blanksby couldn't help but cry every time she looked at him. In her blog she writes "I can not even begin to describe the pain I feel whenever I look at his precious face. My heart breaks for every big smile he gives me because I know how much I'll miss him when he's gone, and when you think my Heart can not take it anymore, it breaks even more when he gives me his gaze suffering from pain."
Any mother's dream is to see all her children be healthy and happy. I can't imagine what it must feel like for a mother to know she soon won't be able to carry her son in her arms.
Friends of the family created a fundraising page on GoFundMe to help alleviate the financial suffering of their parents and to spend the best quality time with their children.
After the photo of the sweet brothers went viral, thousands of people rallied to support the grieving family. The GoFundMe account, which had an original goal of $20,000, ended up earning over $45,000 - more than double the original goal.
Though his family still aches with loss, Thomas "grew his angel wings" and is with God now, and the world is a bit better off after seeing the love between this beautiful baby and his older brother.
This article has been translated and adapted from the original "El silencio hizo que su madre fuera a ver si su hijo estaba haciendo una travesura; la imagen que capturó recorre el mundo llenándonos de lágrimas," which was originally published on familias.com.