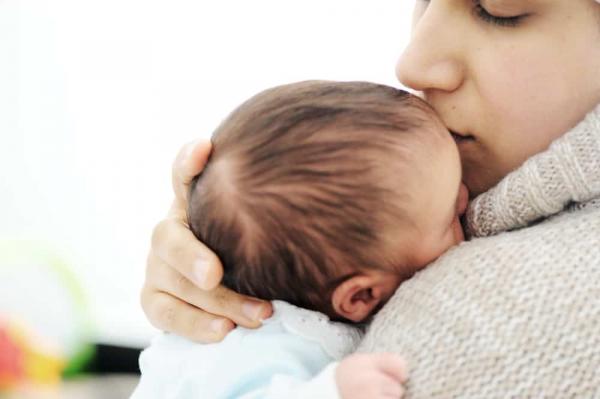 Editor's note: This article was originally published on Tove Maren's blog, Mama in the Now. It has been republished here with permission.
"Be where you are!"
Were some of the first words spoken to me by the Chaplain at a local hospital. Father Mike introduced himself as I stood over our infant son Jordan laying in a baby warmer dressed in only a diaper and a hat knitted by a kind-hearted hospital volunteer. Jordan and I had just arrived at the ER via ambulance. He was all of 12 days old when his condition had gone from bad to worse. He was immediately intubated and an X-ray showed that his heart was enlarged. It was quickly decided that he would be better served at a hospital an hour away, so a transfer via helicopter was arranged.
My husband had just left to go pack my suitcase, when Father Mike joined me at Jordan's bedside. He went onto explain his words: "Be where you are!" Father Mike said that the next several weeks and months would be some of the hardest in our lives. He urged me to be fully present in every moment - "be where you are" - and to trust that I was right where I was supposed to be, all the time.
"Be fully engaged in your oldest child, when you are at home with him.
Play with him, interact and give him your undivided attention. Trust that Jordan is well cared for at the hospital, so you can be a wonderful mother to your oldest son. When you are with Jordan in the hospital be present there, pay attention to your surroundings, changes in Jordan and be mindful of his needs. You can do this knowing that your oldest son is safe in his loving home." Father Mike's words stuck with me. I made a decision to follow his advice and be present in every moment, however scary and frightening it would be.
"Be where you are"
became my mantra, the words that would comfort me during our darkest hours. The four words kept me centered during Jordan's six weeks in the PICU where I sat bedside and watched helplessly as our infant struggled to fight for what I promised him would be a beautiful life.
Now, six years later, we are blessed with a large flock of little boys and my promise to Jordan has come true - our life IS beautiful. With that said, I still on a daily basis remind myself of Father Mike's words: "be where you are."
On days when the kids are melting down and fighting as siblings do, I remind myself to be present in the moment. These times, however crazy they make me, however tired and frazzled I may feel, they are not to be wished away - and I certainly should not be dreaming of a quiet beach on a remote island, because I am right where I am supposed to be.
Wouldn't you know it, when I pull myself back from my day dream and focus on separating the two little boys that are stuck together like pieces of LEGO, the fighting stops. The tantrums, the meltdowns, the yelling, the arguing - they all come to a halt! When I live by the words "be where you are," the boys realize that I see them. I am no longer distracted by my own wandering thoughts, flashy iPhone or luring social media notifications - I am fully present, engaged, and focused on them and their endless stream of questions, knock-knock jokes, comments, silly voices and retelling of their school adventures.
Father Mike's advice got me through the worst of times. His guiding words led me through the muddiest waters to the other side, where our family is flourishing with renewed focus and resolve.
When you feel torn between friends, when the work/ life balance is out of whack, when you are annoyed that everything happens on "their time" and you long for some "me time" - take a step back and tell yourself to "be where you are!" Trust me - it works.