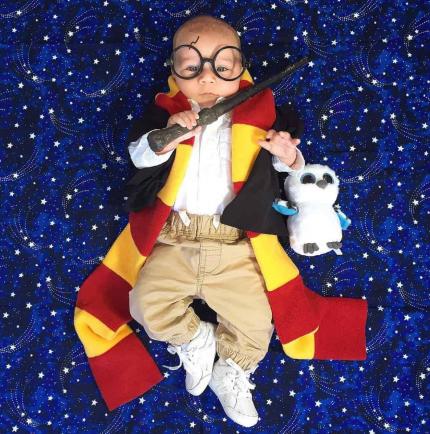 While some of us stress about finding just one Halloween costume each year, Jessica Chavkin finds the time to make her son, Noah, 31 costumes. Each day of October you can find Noah sporting an adorable, different themed costume. This is an especially impressive accomplishment considering Noah is a squirmy toddler.
The incredible project started on Noah's first Halloween last year.
"Since dressing up Noah is STILL my favorite thing to do, and Noah is STILL my favorite thing ever, we will be counting our way down to Halloween with as many costumes as a wonderful but wiggly toddler feels like exploring," Jessica wrote on her blog. "I hope that you're amused, I know we will be."
Check out sweet Noah in a few of these costumes that are likely to inspire your Halloween parenting goals.
October 21, 2015
The cutest Oscar
Where's Noah?
Just say world peace
The boy who lived
To what once was
Relatively speaking
Mashed peas anyone?
Paddington
The apple of my eye
Noah plays Noah
A wasabi bath
One piece of cake, two apples, three grapes...