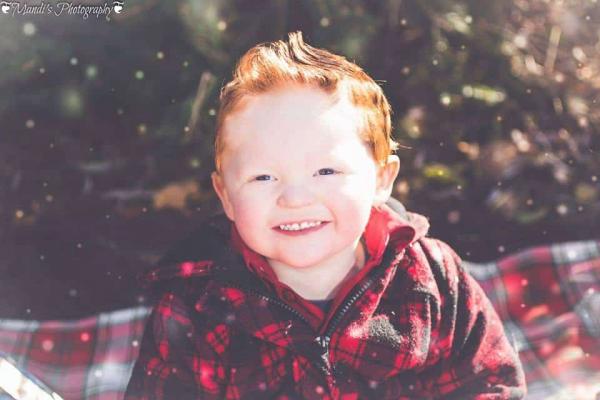 The first time Kennedy Park saw an angel was at the funeral for her cousin, RyKer Bishop. Born just eight days apart, RyKer and Kennedy were best friends and not even death could separate the two.
In an interview with FamilyShare, Amy Park shared the following:"We were heading to the cemetery. I was crying and Kennedy asked why I was crying," her mother said. "I told her I was sad because I missed him. She sat for a minute and said, 'Mama, RyKer doesn't want you to be sad, he's hugging you right now.'".
At just two and a half years old, RyKer's bright red curly hair and contagious laugh brought a smile to the faces of all who knew him. He loved John Deere tractors, the Minions from the "Despicable Me" movie and helping his daddy work on trucks. But on December 26, 2015, RyKer unexpectedly passed away from croup complications. He left behind his mom, Lindsey and dad, Justin, his little sister BentLee and his cousin Kennedy.
Since RyKer's death, his family has mourned his loss but have also seen many miracles. For Christmas, RyKer got a Minions blanket, but he never got to use it. His little sister BentLee takes that blanket with her wherever she goes. She was barely more than a year old when RyKer passed away so her parents wondered if she would even remember her older brother.
Her mother Lindsay shares how "BentLee wakes up in the middle of the night all the time; the first thing she says is 'RyKer, I miss you.'".
BentLee's parents have seen little miracles through their daughter. They know that RyKer comes to visit his sister BentLee and play with her. "She likes to set up her toys with RyKer's and sit and talk to him. If we let her, she'll play with him for hours", they said in an interview with FamilyShare.
Even though they can't see RyKer, Lindsey and Justin both know he's there and that their daughter BentLee can see him. Their little boy is their guardian angel, watching over their whole family and comforting them during the times when they miss him the most.
That's why when Lindsey and Justin found out they are expecting their third child, they couldn't wait to share the news with their family. When Amy heard that her sister-in-law Lindsey was expecting, she couldn't wait to tell her daughter. However, when Amy got home from work, Kennedy was asleep and would need to wait to hear about getting a new cousin.
"The next morning, Kennedy woke up and the first thing she said to me was 'Mom, is Aunt Lindsey going to have a baby?'"
Completely caught off guard, Amy asked why Kennedy was asking about aunt Lindsey. Kennedy told her mom that Ryker told her in a dream that Lindsey was going to have a baby.
Amy was shocked and surprised by what Kennedy said, but she knows without a doubt she wasn't lying. Hardly anyone knew about Lindsey's pregnancy, meaning no one could have told Kennedy.
RyKer is a guardian angel to not only his parents and sister BentLee, but to his cousin Kennedy. He may not be with them on earth anymore, but he is certainly on the other side watching over them. Like Kennedy and BentLee, there are stories from all over the world about children experiencing things many adults are blind to. Their stories show the world that angels exist and are watching over us.
Don't be so quick to disregard what children say. They are much closer to heaven and angels than we think.