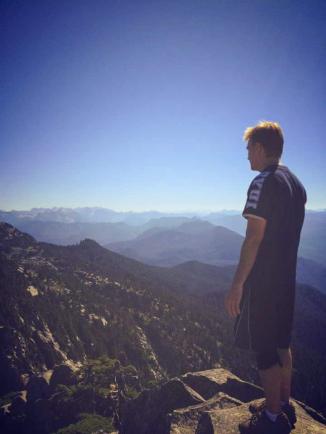 Jeremy thought November 5 was going to be just like any other day. Wake up at 5:30 a.m., hit the gym, go to school, work a 3-hour shift and then finish homework all evening. Little did he know he would unexpectedly face death that day.
While exercising at his university's gym, Jeremy Overson collapsed on the floor. In a matter of seconds he stood back up claiming he was OK. But, as he took a step forward to proceed with his morning workout, he collapsed once again.
This time he did not wake up.
Without any hesitation, two students rushed over to discover he was in cardiac arrest. They immediately started performing CPR and reached out to other students to call 911.
The seconds felt like minutes as both Aubrey Landon, a life guard at a local water park, and Gregory Laffoon took turns performing CPR.
Even after 15 minutes had passed, they refused to stop. More people noticed what was going on and tried to help.
The paramedics arrived right when all hope seemed lost.
As CPR continued in the ambulance, the likelihood of Jeremy recovering from such an extensive heart attack was rapidly declining. Some would even say it was a one-in-a-million chance.
But even with such small odds, the EMTs were determined to make him the one.
Once taken to the emergency room, given a breathing tube and put on ice to reduce brain damage, he took his first breath. From the time Jeremy collapsed to when he arrived at the hospital, his heart had been stopped for more than 30 minutes.
"My heart had stopped. I woke up two days later in the hospital. I just can tell you that the doctors and paramedics thought I was going to die," Jeremy shared.
His memory of the incident is vague, but he knows that he is a survivor because of the students in the gym that day and because of his loving God.
When his friends were told what had happen, they were at a loss for words.
I inteviewed two of them. "I couldn't believe what I was hearing. I was going to hang out with him the night before, and all of a sudden I was finding out that one of my best friends was in the hospital," shared friend and fellow student Kaeti Richards.
Roommate Edward Doyle was in the computer lab when he received the news. He told me, "My phone was dead, and I had just plugged it in to charge. When I turned it on, I received a number of messages. When I saw the text, I stopped what I was doing and ran home."
His church congregation fasted and prayed together before hearing the news that he was conscious. Later they shared how asking God to be with him was the best thing they could do for him.
With no heartbeat, it is a mystery why people had continued to do CPR and hadn't thought he was gone for good.
Jeremy Overson survived by a miracle that day.
Landon explained the experience: "I was really worried and praying the whole time that he would make it. After 4 minutes it's really unlikely he would make it but after 15 minutes he survived. It was definitely a miracle. Christ was definitely looking out for him that day. I'm just grateful I was there."
The cause of the cardiac arrest is still unknown. He remembers stretching before starting his workout and that is it.
Family and friends flocked to the hospital to give Jeremy love and support. His aunt even made a GoFundMe account that raised $1,600 to help with the cost of the defibrillator placed inside him.
The city and fire department honored the two students who heroically saved Jeremy's life with a Life Saving Award.
Although the cause of the attack is still in question, the fact that Jeremy Overson is alive and well today is living proof miracles occur all around us every day.