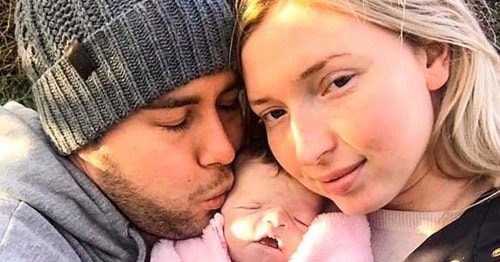 I lost my baby when I was almost 6 months pregnant. To no longer hear a heartbeat and have her removed from my belly far too early was unbearably heartbreaking; no one should ever have to hear such sad news and feel such pain. Parents are not meant to bury our children.
In my case, I decided not to see her. I wanted to remember my baby as healthy as I had imagined she would be, not how she really was.
This couple did something different
Charlotte and Attila Szakacs gave birth to a beautiful girl in the United Kingdom. Like all parents, they had been anxiously awaiting her arrival. However, baby Evlyn "had an underdeveloped brain, narrow airways in her nose and lungs and a narrow aorta, the main artery that leads from the heart" according to FoxNews.
Because of her health problems, Evlyn would not live very long after birth.
Their lives would be changed forever
The young parents learned that their baby had a chromosomal problem during their 20-week scan. Charlotte said she and her husband completely broke down when they heard the news, and it hurt them more than they ever thought possible.
However, life gave them the opportunity to enjoy a few more memories
Evlyn lived for four weeks in hospice care but died just a few moments after her breathing tube was taken out. Though Evlyn was no longer living, her parents spent 16 days caring for their daughter.
The couple were allowed to stay with their daughter's body for 12 days at "Martin House" hospice. Charlotte and Attila kept their baby in a refrigerated "cuddle cot" and were given permission by the hospice to take Evlyn out for walks as a part of the grieving process.
"[T]hen we were allowed to take Evlyn and her cuddle cot home for the last four days. Her last night she slept in her actual cot we had got for her in our room." said mother Charlotte.
The medical staff helped these young parents
During those 16 days, the couple did what they could to grieve by taking Evlyn to parks and taking pictures with her.
"I know it might not be the best option for everyone. But for us it was so important to be able to have that family time and just properly cuddle our little girl. I think having the time with her made such a difference. Being able to do so many of the things you imagine like taking her out in her pram, it really helped emotionally" said mother Charlotte.
After the 16 days, the family proceeded to give Evlyn a traditional funeral and one last goodbye.
Grief is personal
I recently lost my daughter, and no prescription can mitigate the pain. You do what you can. There are days I feel like if I get up and take on the world. There are days where I act as if nothing happened, just hoping the pain would disappear, but unfortunately it hasn't.
The pain will never be erased, but when the pain begins to fade and the sun begins to shine in your life once again, you'll understand why things happened they way they did. You'll understand there was a purpose, and you'll always know that your little angel will be with you forever.
This article was adapted and translated from the original, "Su bebé murió a días después de nacer y decidieron conservarla con ellos por 16 días despidiéndola de una forma que para muchos es perturbadora." It was originally published on familias.com.