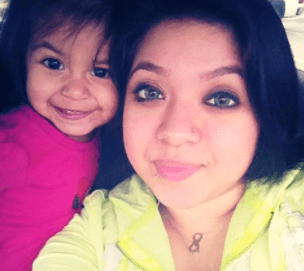 Five months pregnant, Karla Perez went to lie down to find relief from a severe headache and never woke up. But 54 days later, she was still able to give birth to a beautiful litte boy.
Perez was diagnosed with juvenile rheumatoid arthritis at a young age. She was told it would be difficult to have children; however, she never gave up hope of having a family.
When she discovered she was pregnant with her first child, she was overjoyed to give birth to a baby girl, Genesis. Perez's mother, Berta Jimenez, said Perez was equally excited when she found out she was pregnant with her second child. She named her unborn son, Angel. Genesis and Angel were Perez's life.
A devastating turn of events unfolded after the 22-year-old mother was taken to the hospital after vomiting from pain in her head. Doctors discovered a massive brain bleed from a stroke the young mother experienced.
Medical staff proclaimed Perez completely brain-dead. But despite the stroke and lack of brain activity, the fetus of her unborn son was perfectly healthy.
Jimenez and other family members were shocked and carefully considered what Perez would have wanted for herself and her child. "She didn't look like she was gone, but she was," said Perez's doctor. "Her parents had to face this difficult decision of what to do."
They decided to keep Perez on life support to allow Angel the growth he needed to be born. The family gathered around Perez's hospital bed to see the miracle ultrasounds of baby Angel moving. Perez's parents rarely left her bedside.
Perez made history as she stayed on life support for the next 54 days to allow her son safe development before delivery.
"Our team took a giant leap of faith," said the vice president from Methodist Women's Hospital where Perez was being kept alive. "We were attempting something that not many before us have been able to do."
Only 33 worldwide similar cases have been reported in medical literature since 1982.
The miracle
Perez's condition worsened, but sweet baby Angel was delivered at 30 weeks and three days. He weighed two pounds 12.6 ounces and rarely left his adoring grandmother's arms.
"Angel's first cry was bittersweet - it meant he was alive, but Karla was gone," wrote the Methodist Women's Hospital.
Angel was a fighter and stayed strong and healthy.
After her death was confirmed, the young mother's organs were donated to save four others.
"Not only does Karla's legacy live on through Angel, but also through the four individuals who benefited from her liver, two kidneys and her heart," said the hospital.
Angel is fastly approaching two years old. His grandma says he looks just like his mama.
Perez lost her life, but the history she made and the legacy she left behind was remarkable. Her son is alive and healthy, and she saved four other lives the day she lost her own life. Her family and friends continually miss her but believe she is resting in peace.