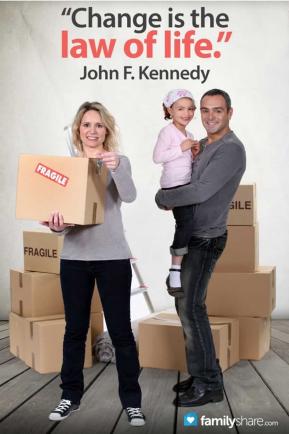 Moving. Blech - the word conjures images of dollar signs, heavy labor, high emotions, and lots of uncertainty. Some families are fortunate enough to plant deep roots; others barely feel settled when it's time to pick up and relocate again. Still, other families thrive on change and the new adventures that accompany frequent moves.
My family has experienced the craziness of moving six times in 18 years, and we're soon to embark on our next relocation adventure. While we're not as transient as many other people, we have accumulated some know-how to help to ease the complications of moving. Here are some tips to help you through the process:
1. In the weeks before moving day, look around your home. Declutter and donate or sell what is unused or outgrown.
2. Let your kids in on the move as soon as possible. This allows more time for the big change to sink in. They should gradually start to feel more comfortable with the idea.
3. Research your new area for desirable schools. Greatschools.org, for example, ranks schools based on their test scores as well as parents' and students' comments.
4. Notify your utilities of your impending move.
5. Cancel or reroute your newspaper and magazine subscriptions.
6. Reroute your mail by filling out a change-of-address card online or at the post office one or two weeks before your move date.
7. Moving can be expensive, so save your dollars. And depending on where you're headed, home prices are going up.
8. Don't pack all your cleaning supplies - you'll want some rags and cleaners to spiffy up your empty, dirty home and your new home as well.
9. If you're leaving during the school year, give your kids' teachers a heads up and notify your school's office.
10. Likewise, call your new schools ahead of time to find out what documents you'll need for the enrollment process.
11. Research the amenities your new location has to offer. This will help sweeten the deal for the kids.
12. Prepare for house hunting in your new town by finding contacts. Word of mouth can lead you to other parents who may share noteworthy advice about schools and neighborhoods.
13. If you're selling your home, ask around for a successful realtor to help you get top dollar.
14. Stage your home for a quick sell - clean, declutter and depersonalize to help it appeal to the masses.
15. Make a plan for transporting your pets.
16. During the weeks before your move, purchase only the grocery necessities. Now is not the time to stock up on frozen meats or popsicles.
17. As a simple courtesy, leave some toilet paper behind for your home's next dwellers.
18. If you're buying your next place don't overextend yourself financially, but do keep in mind that your earning power will likely go up and you'll potentially grow into your monthly payments.
19. You've heard it before: location, location, location. A great house in an undesirable or too far from work neighborhood will probably leave you dissatisfied in the long run.
20. If you're planning on building your next home, consider asking your builder for some DIY projects. Your sweat equity will help save you cash.
21. Before signing on the dotted line, time your commute from your new home to your workplace. Even better, make the drive during your typical commute hours.
22. If you're building, find out what the area around your lot is zoned for. Businesses? More homes? Your city's planning department would have this type of information.
23. When house hunting, try to disregard the aged knickknacks and stained carpet. Pay attention to the bones of the house and imagine your décor, furniture placement, and possible improvements you could make.
24. Don't be in a hurry to buy everything at once in your new place. A refrigerator and window coverings are probably more important than a new surround sound entertainment center.
25. Remember, the perfect house only exists in fairyland! Work with what you've got, greet your new neighbors, and grin and bear the quirks in your new abode.