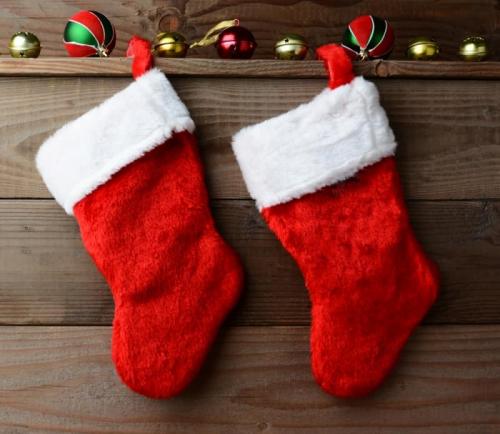 In the manic-filled days before the king of all holidays, we, as parents, sometimes get carried away. We want our children's Christmas to be magical, and we do our best to satisfy their anticipation for new toys, gadgets and clothes.
So, we often blow our budgets or don't budget at all. According to statistics cited by Bob Brooks of prudentmoney.com, "More than half (57 percent) of U.S. adults with children under 18 said they would be willing to take on debt in order to make their children happy for the holidays." On that vein, one third of adults planning to buy gifts this Christmas don't have a spending cap.
Added to the buying bonanza is the traditional shopping for stocking stuffers. Sometimes, filling our kids' stockings can be an afterthought; in a panicked rush of last-minute shopping we fill our carts with useless extras. But since the main presents are usually already waiting under the tree or sitting in Santa's sleigh ready to be delivered, overspending on stockings seems superfluous.
All over the world stockings are such a fun tradition, but why spend even more money needlessly? Here are some ways to take a more practical approach to filling your kids' socks.
Socks and underwear
Your kids need new underthings yearly, anyway. They add just the right amount of bulk to a stocking, and they're bare necessities on which you're not wasting money.
Favorite treats
Fill your child's sock with his favorite snacks and a rare treat or two - microwave popcorn, chips, chocolates, hard candy, beef jerky, gum, soda or fruit. Oranges are a traditional Christmas gift.
Books
A small board book for your baby or paperback for your little reader should fit neatly into a stocking.
A calendar
Include a small wall or desk calendar of the new year for your child's bedroom. A personal calendar can help your child feel more independent and organized.
School supplies
I know, pencils for Christmas? Bah humbug. But it's really not as lame as it sounds. A cool new lunchbox, unique-looking pens, pencils or markers and notebooks are some items your kids may like and need, anyway. Give crayons and coloring books to your toddler.
Personal care items
Lotion, body wash, scented body spray, perfume or cologne, toothbrush, a hand mirror, comb, brush, nail polish or makeup are nice little extras and necessities that serve useful purposes.
Crafty items
For your little crafter, look for items like origami paper, modeling clay, scrapbooking supplies, duct tape, paint, beads for jewelry making, rubber stamps, crochet thread or model car kits.
Batteries
If your little sugarplum is getting toys or gadgets that require batteries, slip them in the stocking.
A letter from Santa
Type a letter from Santa listing all the wonderful things he's noticed your child has done during the past year.
Whether your kids leave out their shoes or stockings in anticipation of goodies, take a sensible approach to filling them. Don't go into debt for stocking stuffers. Resist the temptation to purchase even more unnecessary toys just to check stocking stuffers off your list.