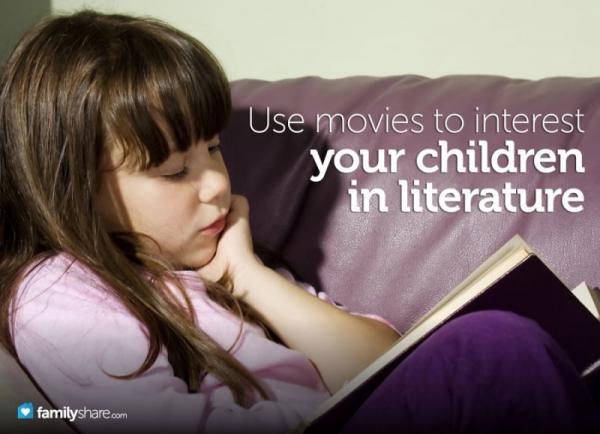 I love to read books and then see any cinematic adaptation of them. That's my order. However, I am often then disappointed at the way they've done the movies. On the rare occasion that I've watched a movie first, then been compelled to read the book, I have never been let down.
I started thinking that this might be a good way to get kids who aren't necessarily interested in reading at all to want to read. Why not pique their interest by letting them see the movie and then read the book together after. The intricacies and nuances that are not found in the movie will show them how much better it is to read.
There are a number of great classics and modern-day classics that have inspired fairly faithful movie adaptations. I have included links to OK.com for more information on what I consider the best adaptations.
Here is a list to get started.
For the youngsters and transitioning:
by Lucy Maud Montgomery is masterfully adapted to film and directed by Kevin Sullivan, this movie follows the book very well with delightful casting and visually appealing cinematography. Megan Follows is quite believable as Anne from her tomboy beginnings to her adult life. The sequels are made just as well.
by Frances Hodgson Burnett, film directed by Agnieszka Holland, beautifully captures the tone of the book with Mary Lenox stepping outside her spoiled upbringing and learning to give by breathing bright sunlight into the darkness of Colin Craven's world.
by Laura Ingalls Wilder adapted for a popular television series, is pretty faithful to the books with loving and engaging characters and true-to-life sets. It is worth watching if you can find it on DVD or watch on a cable channel.
Harry Potter series by JK Rowling, films with various directors and produced by Warner Bros., the film adaptations are brilliant and cover as much of the story as is possible to capture in a couple of hours. If your kids don't want to read the books after watching the movie, I would be surprised. This is a great series because it literally grows up with your children, becoming more dark and suspenseful as they are able to understand.
Nanny McPhee
is based on the Nurse Matilda series by Christianna Brand. This movie, by Universal and directed by Kirk Jones, was an absolute delight and would be enjoyed by all ages.
Kids transitioning and adults:
by Jane Austen, adapted into a mini-series by the BBC and A&E and directed by Simon Langton is the best adaptation I have ever seen. It is done impeccably with great detail and brilliant character portrayals. I have to also give snaps to another adaptation called Bride and Prejudice
_,_a Bollywood production that is visually stunning, quite spot on with its characters, and done in the form of a musical.
Emma also by Jane Austen, film by Miramax and directed by Douglas McGrath is a sweet version of this Jane Austen comedy of errors. It is a fairly faithful adaptation with good characters. A modern retelling of the story can be seen in Clueless by Paramount and directed by Amy Heckerling.
by Charles Dickens, movie by Masterpiece Theater for PBS and directed by Philippe Monnier. Another modern telling of this movie is a darling film called The In Crowd
_,_which tells the ill-fated love story in a much lighter setting of 1960's Philly dance show. It is a musical with great dancing and heartwarming moments.
by Victor Hugo is one of the best novels ever written and was recently released on the big screenby Universal and directed by Tom Hooper. I have always been a huge fan of the novel and the stage musical, but this brought the best of both to the big screen. I can't say enough good about this adaptation. Just watching the preview, I was sobbing. No detail was left undone.
Hunger Games Trilogy by Suzanne Collins, film by Lionsgate and directed by Gary Ross, is a compelling rendition of this futuristic tale. It will keep you on the edge of your seat and probably intrigue your non-reader enough to pick up the book.
There are so many others, but some of my favorites are To Kill a Mockingbird
_,_
_,_
and I must stop because I'm running out of words.
Try a few of these out on your hesitant reader and see if a happy conversion takes place.