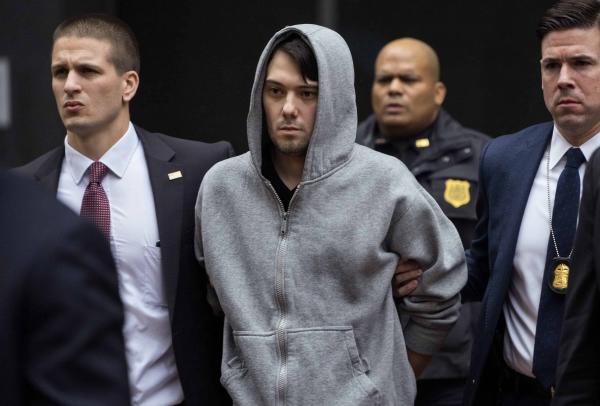 Pharmaceutical chief executive Martin Shkreli, known to many as the "Pharma Bro," was arrested Thursday morning in New York City.
He was charged with securities fraud against the company Retrophin, a biotech company he founded in 2011.
As Mic's Jon Levine reported, Shkreli has been accused of "illegally bilking" Retrophin to pay off some other unpaid debts. Specifically, Shkreli used Retrophin stock to pay off "millions of dollars in losses by Shkreli's hedge fund MSMB Capital Management," Mic reported.
"Shkreli was the paradigm faithless servant," the suit read, Mic reported. "Starting sometime in early 2012 and continuing until he left the company, Shkreli used his control over Retrophin to enrich himself and to pay off claims of MSMB investors (who he had defrauded)."
Shkreli's arrest comes after a longtime dispute with his former company that he resigned from in 2014 before he created Turing Pharmaceuticals, Mic reported.
In fact, Retrophin filed similar charges on Shkreli in 2014 where "Retrophin accused Mr. Shkreli of having used the company as a kind of personal piggy bank to help pay off upset investors who lost money at the hedge fund MSMB," The New York Times reported.
Shkreli's arrest comes after the "Pharma Bro" made headlines for other reasons this year. Back in September, it was reported that Shkreli raised the price of a 62-year-old drug - "a critical treatment for a parasitic infection that can be fatal to those with compromised immune systems due to conditions like AIDS/HIV and cancer" - by 4,000 percent from $18 to $750, The Washington Post reported.
And, more recently, Shkreli revealed he bought rap group Wu-Tang's new album "Once Upon a Time in Shaolin" - of which there was only one copy - for $2 million, Bloomberg reported. Wu-Tang said before selling the album that it would never announce the buyer, but Shkreli had other plans, revealing himself to be the owner earlier this month.
Shkreli's choices to raise the price of a much-needed drug and to buy a highly desired rap album inspired some people to criticize him, and that happened again on Thursday after this arrest, CNN reported.
Some Twitter users called his arrest karma given some of his earlier decisions this year.
Similarly, liberal news website Occupy Democrats' report on the matter called this an act of karma.
"Karma has finally come for Martin Shkreli, America's most hated man," the story's first line reads.
In some ways, it is an act of karma. The Buddha Dharma Education Association explains karma as a "law of moral causation" and it depends a lot on how people approach the world.
"Let us take an example. If we plant a mango seed, the plant that springs up will be a mango tree, and eventually it will bear a mango fruit," the BDEA explained. "Alternatively, if we plant a Pong Pong seed, the tree that will spring up will be a Pong Pong tree and the fruit a Pong Pong. As one sows, so shall one reap. According to one's action, so shall be the fruit.
Similarly, in the Law of Karma, if we do a wholesome action, eventually we will get a wholesome fruit, and if we do an unwholesome action, eventually we will get an unwholesome, painful result. This is what we mean when we say that causes bring about effects that are similar to the causes."
So to some, specifically those who see Shkreli's excessive spending and decision to raise the price of a much-needed drug as an "unwholesome action," Shkreli's arrest may be an "unwholesome, painful result."
Or, it could just be a simple act of justice; you do something illegal, you'll get arrested for breaking the law. Or, as the BDEA said it, "as one sows, so shall one reap."
The two, though, seem similar. And that's not surprising, since the U.S. justice system is often affected by karma, a 2009 research paper from Shiv Narayan Persaud of Florida A&M University explained.
Specifically, karma makes people act a certain way throughout their life, which later affects whether they're arrested for a crime, if they enact a law or how they hand out justice against another. If you're constantly doing wholesome things, then you may make a legal decision that seems more wholesome, Persaud wrote.
Of course, karma is subjective. What one deems wholesome isn't the same for another, Persaud wrote. Karma isn't black or white, good or bad, he said.
That's why his paper concludes with the suggestion that lawmakers and those carrying out justice examine the philosophical principles behind karma to greater understand legal enforcement.
"Whether applied during the enactment of laws, enforcement of justice, or delineation of punishment," the paper reads, "the justice system can benefit from the philosophical underpinnings and practical applications of Dharma and Karma in the maintenance of a state of harmony in accordance with the Eternal Law."