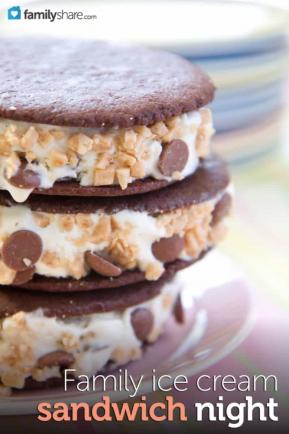 I scream, you scream we all scream for ice cream! My family loves ice cream. My oldest daughter has quite a sweet tooth, and she is always scheming to get more goodies into the house. We also love cookies. Combine cookies and ice cream together and you've got a perfect treat - an ice cream sandwich!
The idea behind cooking and eating together is to spend time with each other. Even if you open a package of pre-made ice cream sandwiches and play a game or just chat, you've captured the essence of good family time. However, if you're feeling a little more creative and have time to spare, try making your own cookies (and perhaps ice cream) and assembling a special treat for your family.
I've scoured the Web for three inspiring recipes. Grab your assistant chefs and get to work. The sweet reward at the end will be worth it.
Original goodness
If a traditional ice cream sandwich is what you like best, Spoonful.com has the recipe for you. The cookies look very similar to the store-bought version, and I think kids would love to help make these wafers look authentic by poking holes in the cookies. For a grown-up version, a salted caramel ice cream would be yummy instead of vanilla.
Better with brownies
This recipe is for a brownie ice cream sandwich. I spotted it on myrecipes.com. Use the recipe they offer, your favorite brownie recipe or even a box mix for the "cookie" part of your sandwich. Cookies and cream, vanilla, strawberry and chocolate ice creams would all go well for the center.
Peanut butter delight
Rachael Ray has several recipes on her site, but the one that caught my eye is for a peanut butter ice cream sandwich. Peanut butter cookies, vanilla ice cream, and homemade hot fudge sauce combine for a delicious, and maybe messy, treat.
Other options
If none of these recipes appeals to you, or if you don't have time to make cookies, you can make a simplified version, which will still be quite tasty. Buy cookies, graham crackers or wafers and ice cream from the grocery store and assemble your own ice cream sandwiches. You could buy a variety pack of cookies and two different kinds of ice cream to make a few kinds of sandwiches. The possibilities are endless! Let your family members help choose the ingredients - if you can all decide.
Helpful hints
Make sure you allot enough time for the ice cream to soften so you can spread it between the cookies, and then harden your creation in the freezer so the sandwich stays together. The sandwiches will need at least an hour in the freezer to firm up. If you don't have an hour, eat them right away before they melt!
Not only are you enjoying something yummy, you're also forging strong relationships and capturing memories. Not a bad combination.