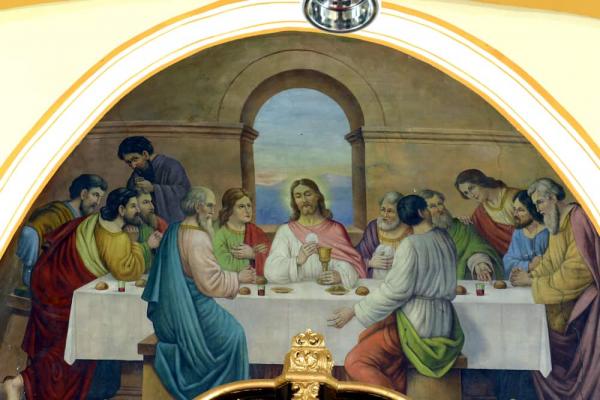 Before Gethsemane and before Golgotha, the Savior gathered his apostles together for a final meal and instruction. It is known as the Last Supper. Luke records, "And when the hour was come, he sat down, and the twelve apostles with him. And he said unto them, with desire I have desired to eat this Passover with you before I suffer." (Luke 22:14-15) With his apostles gathered around him, the Savior took this opportunity to share by word and deed important gospel principles. As you study this meaningful episode in the Savior's life with your family, you can help them gain greater understanding of how this event and his teachings there can help them become better Christians.
The setting
The timing of the Last Supper and the eventual crucifixion was not coincidental. It occurred during the Passover, an eight-day Jewish festival commemorating "the emancipation of the Israelites from Egypt."
([www.chabad.org/holidays/passover/pesachcdo/aid/871715/Jewish/What-Is-Passover.htm](http://www.chabad.org/holidays/passover/pesachcdo/aid/871715/Jewish/What-Is-Passover.htm)) The Last Supper was in fact a traditional Seder meal eaten by the Jewish people as part of their observance of this sacred holiday. Just as the Israelites were freed from slavery, the Savior's atonement would free all men from the bands of death and sin. The Passover also refers to when the Angel of Death passed over the first born of the Israelites in Egypt if they had obeyed Moses and marked their doors with the blood of a lamb.
Christ's atonement enables all men to escape the grave through the power of the resurrection.
Christ also directed his apostles to a particular room in Jerusalem. This upper room, above the noise and tumult of the city provided a quiet place where the Savior could partake of the Passover feast and teach his apostles in a more intimate setting.
The Lord's Supper
With his apostles gathered around him, the Savior "took bread, blessed it, and brake it, and gave it to the disciples, and said, take, eat; this is my body. And he took the cup, and gave thanks, and gave it to them, saying, Drink ye all of it; for this is my blood of the new testament, which is shed for many for the remission of sins." (Matthew 26:26-28)
This was the inauguration of this rite in Christianity. A testament is "a covenant between God and humans." (Random House Webster's College Dictionary) So when we partake of the Lord's Supper we are covenanting with God to remember the Savior and follow Him.
Service
After the meal was concluded, the Savior took the opportunity to serve his apostles by washing their feet. This was a menial task in their society - feet got very dirty as you walked dusty roads in sandals. When he was done, the Savior taught, "ye call me Master and Lord: and ye say well; for so I am. If I then, your Lord and Master have washed your feet; ye also ought to wash one another's feet. For I have given you an example, that ye should do as I have done unto you." (John 13:13-15) Share with your family the importance of serving each other and those you meet - even if you think you are better than them.
Love one another
In the account recorded by the Apostle John, the Savior gives this commandment twice, "A new commandment I give unto you, that ye love one another as I have loved you." (John 13:34 and John 15:12) How does the Savior love? He showed love through compassion, through service and through his words.
Obedience
The Savior taught his apostles that "if ye love me, keep my commandments." (John 14:15) Within this chapter, he says this two more times. Our obedience to his commands demonstrates that we love him and that we want to follow him.
You can help your family grow to be more like the Savior each day. You do this through understanding the setting and timing of the Last Supper as well as exploring the gospel principles of covenanting with him. Also, through serving and loving others.