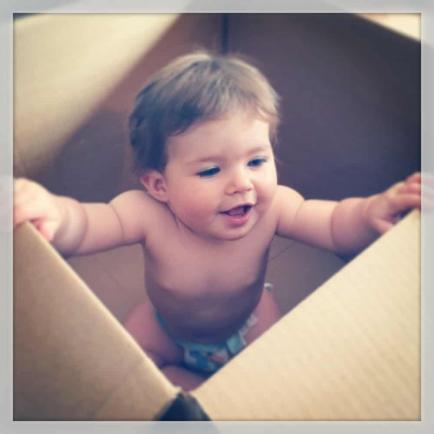 In Finland, most babies sleep in cardboard boxes. They must know what they're doing because the country has achieved one of the lowest infant mortality rates in the world.
The tradition started in the 1930s when the amount of newborns dying had reached an all time high. By 1936, 40% of Finnish infants were dying. In an effort to give every child an equal opportunity at life, the government began giving mothers a maternity package in a cardboard box. This box became the baby's bed.
Not only was this box pivotal in providing for the needs of newborn babies but the program also changed infant care overall. Heidi Liesivesi, Social Insurance Institution of Finland worker, reported to BBC: "[I]n order to get the grant, or maternity box, they had to visit a doctor or municipal pre-natal clinic before their fourth month of pregnancy." So the box also changes the way mothers are educated about caring for their newborns.
This tradition continues today but has evolved from its original conception. For example, in 1938 mothers received fabric to make clothes for their babies; today the box comes with a variety of clothes including coats and diapers. Moreover, many of the changes encourage good baby care such as discontinuing the inclusion of a bottle to encourage breast feeding.
Ultimately, sleeping in a box may lower infant mortality rates because it's a safe place for baby to be.
"Baby in a box accomplishes a lot of things that the American Academy of Pediatrics recommends," said Dr. Corin Cross, the spokesperson for the American Academy of Pediatrics, to CBS Los Angeles. "You want to have your baby without any other loose bedding. So a baby in a box, if it has a nice tight-fitting mattress and just a little sheet on top of it, there's no bumpers; there's no pillows; there's no stuffed animals. So there's a lot less things for the baby to suffocate on."
In other words, giving your newborn a cardboard box for a crib may not be just a terrible thing that Miss Hannigan or Count Olaf would inflict upon children; it might be just what your baby needs.
Statistics Finland - 6. Infant mortality in 1936 to
2010
At any rate, the cardboard box system seems to be working in Finland. The country now has the 7th lowest infant mortality rate in the world beating out both the United States and the United Kingdom. Many people attribute this success to the cardboard box program.