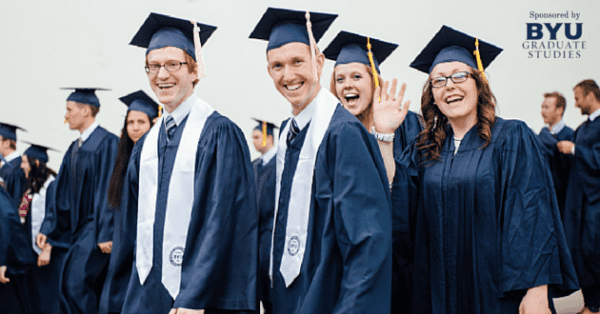 When you hear the words Brigham Young University, I'm sure there are a couple words that come to mind.
Utah, football, religion, and cougars may be some of them, but really there is so much more to this wonderful private university than that.
BYU, or Brigham Young University, offers students from all types of backgrounds the opportunity of a highly sought after education for a fraction of the price of most graduate schools.
The types of graduate programs that are offered at BYU will all greatly benefit any student and their future career aspirations. In fact, some of these programs are among the top rated in the United States.
Here are just a few of the many reasons why BYU is the place to accomplish your graduate degree.
It is a private university
Private universities generally have a more selective enrollment, which means the programs are more student centered. Students within the programs are more involved and have easier access to their professors and mentors. This is definitely the case at BYU, where graduate students only make up 10% of the total student population.
Students from all over the United States and the world attend
One of the great benefits of participating in a graduate program is the opportunity to meet people with similar interests, and the chance to build relationships with them as you study together.
Think you have to be a member of a specific church to apply? False! BYU is for all who wish to pursue a higher education. In fact, many students of other faiths are drawn to BYU specifically because the university encapsulates and promotes many of the same values that they and their families hold dear. This includes family values, modesty, honesty, community service, abstinence from alcohol and premarital sex, etc.
Students at BYU come from a variety of backgrounds and religions, which only serves to enrich the environment they live and study in.
It is one of the top rated universities in the USA
According to Forbes, U.S. News, and many other sources BYU has been consistently rated among the top universities in the United States. Recently, BYU was listed by Forbes as the second Best Value College in the nation, praised as a university "well worth the investment."
Forbes rated it as #2 among the top 25 for those wishing to enroll, #1 among all private universities, #2 for research, and #2 for universities in the West.
This once again goes to show the quality of education that a student can receive by pursuing their graduate degree there.
Going to BYU is a financially responsible choice
Even though BYU is a top rated school with elite programs, because it is a private university the tuition is regulated, and is therefore extremely reasonable.
In comparison to other graduate programs, BYU leads as one of the most affordable. Also there are many scholarships and financial aid opportunities to take advantage of as a student.
Environment is key
Because BYU requires students who attend to live by a set of moral guidelines known as the honor code, BYU students have great morale and integrity. Many employers hire BYU graduates because they have a strong reputation of being trustworthy, hard workers.
Students are expected to live at a higher standard, which means their focus is primarily on their studies, but this doesn't detract from the fun experiences to be had at the college. Many activities and programs offered there allow students to be active in campus life, but in a safe and responsible environment.
Once again, these are only a few of the highlights that come with choosing BYU as the place to pursue your graduate studies. So what are you waiting for? Come and see for yourself why BYU is the place for you.