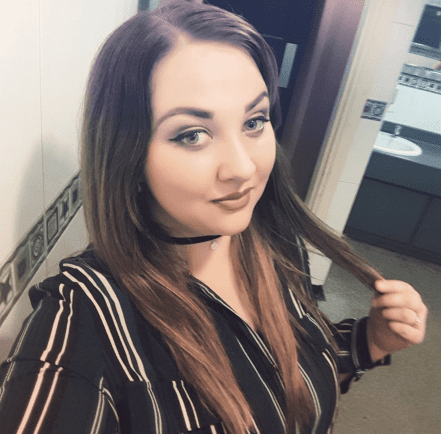 Belting out a Beyoncé hit while her three-year-old daughter clambered all over her has earned Kerrie-Ann Lomas from Liverpool, England, nearly 900,000 fans in just one week. If you've seen her video, you've heard how incredible her voice is. She's also a mom trying to show her daughters how to find time to develop their talents and make the most out of life.
Lomas started singing when she was 3 years old but has never received vocal training. In a FamilyShare interview, Lomas proves she's a mother with a passion who just wants to be heard.
Do you have a role model or inspiration?
Kerrie-Ann Lomas: Yes I do - my grandmother. Before any artist or musician, she definitely comes first.
Why is your grandmother such a big role model for you?
KAL: She used to sing when she was younger. She got diagnosed with Parkinson's disease at 50, which is a really young age to get it. She sings with me now still, but she can't swallow properly.
She gets on with life and shows me that with strength and determination, you can get through anything. She also suffers from kidney failure and other illnesses. She is the one who sat by my side and introduced me to country music.
She is never too busy or preoccupied to spend time with me. Her wisdom and courage makes me beam with pride everyday. She has made me the woman I am today.
Did you know your mom was going to post your video on social media?
KAL: Not when she was filming! I thought it was just to show her friends. Then she posted it and tagged me. Within an hour, it had 3,000 views and likes. So we kept it on and watched the numbers continue to rise in astonishment!
What were your thoughts when you found out the video went viral?
KAL: I nearly fell through the floor! I just always sing at home for my children. To see my name hitting headlines across the world was mind blowing. Just sitting at home looking at my phone and seeing countries writing articles about me is just crazy.
You auditioned for The X Factor (the British music competition reality TV show) when you were 16 and 20. Tell us about that experience. Why did you audition? What happened?
KAL: When I was 16, I asked my Dad what he wanted for Father's Day. It just so happened that the Manchester auditions landed on that day, so he wanted me to audition. So I did and didn't get through. I was more upset that I may have let him down, but he assured me that I never did.
Then, at 20, I was shopping with my mum when in a shop window we saw a sign saying open X Factor auditions. It was like a pop-up tent. So she told me to go for it as I had nothing to lose. I auditioned and again didn't get through.
So I decided maybe my voice wasn't good enough and continued working at the pharmacy and carried on with everyday life.
You've received some backlash for not "fitting the mold" of a popstar. What are your feelings on these responses?
KAL: People have been telling me to "get off the sofa and get a job." I am fortunate enough to not need benefits. My husband works extremely hard to support us so that I can be a stay at home mum. I am pharmacy trained and care for my grandmother as well as my two young children.
Ninety percent [of the responses] has been so lovely and supportive. The minority that have commented on my weight and say I am not "popstar material" need to understand that when you look at a painting, you admire the picture before the artist. When you admire a film, you admire the story before the writer. Music is no different. Singing is heard before you see the singer. You can't see the person when you hear them on a radio or CD.
Appearance isn't important. I am me - an ordinary person like every other person out there. Singing is my passion and nobody has the right to put my voice down because of my appearance. I am happy, I am healthy and I have family and friends who love me for that exact reason.
What's your plan now?
KAL: I have no idea! My voice is out there for the world to hear so time will tell. But my hopes are to continue living an amazing life with my beautiful family and to continue taking requests by uploading videos to my Facebook page. I would like to maybe start [performing music gigs] too and see how that goes.
How do you think singing has shaped your parenting techniques?
KAL: My oldest daughter was born six weeks premature. I sang to her through her incubator. I have sang to her everyday since then. She loves music. She loves to sing and dance, and is so confident with it too! My youngest has been brought up with it too.
I think [singing] has made them more aware of words and helped them learn. I sing nursery rhymes and make up little songs to help get chores done, such as tidy-up time. They love to get involved as music and singing makes what they would usually see as "boring tasks" get done in a fun and exciting way.
If other moms your age read about your story, what would you want to tell them?
KAL: I would want to tell them that no matter what life throws at them, never give up on your passion or dreams. You have brought amazing little people into this world that solely depend on you. Show them that with all of the bad things going on in the world, there is always amazing things that happen too. Have the confidence to just be you.
There is no manual on how to be a mum. Only you know the best for your child and showing them that you can always strive to be better will help them flourish. Be happy, live for today and take nothing for granted. I believe in every mum out there. Let's support each other, stand together and show our children what we are made of. Let's make them proud!
Check out her video that has spread across the world