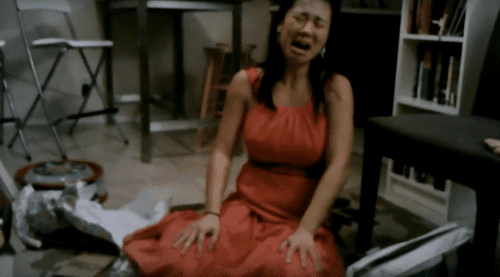 Best friends are there through it all. From a young age, you two are together planning out your lives - you plan out when you'll both get married, how many children you'll each have and what all their names will be.
Or maybe that's just me?
Regardless, when these big moments in your life finally come around, you can't wait to share it with your best friend.
Sharing the news
That's exactly what YouTube user Kelly-Renee Beam did. When she was ready to share her big news with a group of friends, Beam couldn't wait to tell her friend Bethany that she was pregnant.
Luckily, a friend filmed the whole thing.
The caption of Kelly's YouTube video sort of says it all: "When we told our friends we were pregnant at Christmas, no one could have ever guessed their reaction would be so SHOCKING! [S]pecifically Bethany's."
Kelly wrapped up her positive pregnancy test as a gift and gave it to Bethany
Before opening the gift, Bethany had no idea what was inside. As she worked her way through the packaging, she asked "is it a pregnancy test?" But didn't think too much of it.
The second she realized what it was, she screamed
Bethany ran to hug her friend, crying "congratulations" several times.
She couldn't help but cry as she stared at her best friend, now a mom-to-be.
"You did it!" Bethany cries in the video. "You did it, oh I'm so excited. You're going to have a baby!"
Once she had calmed down a little bit, Bethany still couldn't help but express her excitement. She clapped her hands and said, "great job" to the happy couple.
Everyone was clearly amused and surprised by her friend's deafening reaction to the announcement, and Bethany couldn't help but get emotional as she held her friend, crying with joy.
Sharing big moments online
While she never could have imagined Bethany's reaction to her announcement, Kelly and her sister Jill both love sharing special moments online. They both have YouTube channels and call themselves the "sister moms". They share happy moments and give advice to other moms on their channels.
When Jill was pregnant with her third child, she soon found out she was pregnant with twins. Rather than telling her sister the old-fashioned way, she decided to take Kelly with her for a sonogram appointment and let her figure it out for herself. Kelly was beyond thrilled at the news and had a similar reaction to her friend Bethany.
It's so great being able to share these special moments with the people you love, and it's even better when they show their love and support for you with so much excitement.
How have you announced your big news to loved ones? Share in the comments!