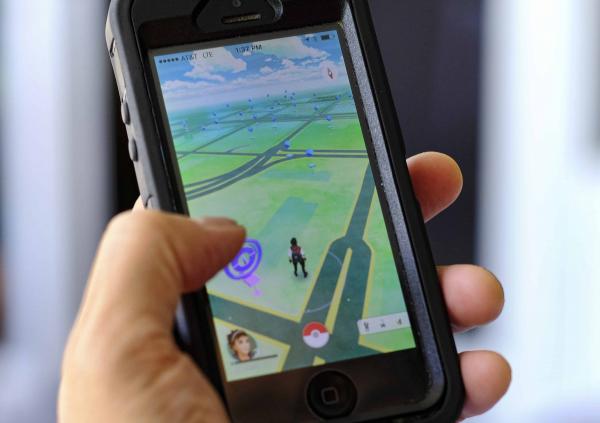 It seems Americans are trading love for Pokemon.
New data collected by SimilarWeb show that the new hit smartphone game Pokemon Go has been installed on 5 percent of all Android devices, which is more than the dating app Tinder, which has only been installed on 2 percent of devices.
Even more so, the data show that Pokemon Go's 3 percent of daily active users may soon surpass Twitter's 3.5 percent of active users.
In fact, people use Pokemon Go for 43 minutes a day, which is more than WhatsApp (30 minutes), Instagram (25 minutes), Snapchat (22 minutes) and Facebook Messenger (12 minutes), according to the data. There's no hiding the fact that people are obsessing over this new app.
Part of the reason the game has such a long usage time is because, well, it encourages people to go outside in the real world and talk with other people. Using GPS and location tracking, Pokemon Go encourages users to travel to real-life locations to seek out Pokemon or various items that can improve their experience in the game.
"The augmented reality app brings the game of finding and catching Pokemon out into the real world with digital Pokemon roaming around parks, bus stops, and landmarks throughout the world - and complete strangers are meeting up while in their effort to catch 'em all," Inverse reported.
People are even making real-world friends through the game.
Forbes' Curtis Silver said the game's potential could include PokeDating apps, where singles can meet through the game for dates centered around catching Pokemon.
"Imagine Tinder, but based around Pokémon," he wrote. "You can filter down to Yellow team only, and check out their stock of Pokémon to determine viability. If they are only holding a few weak Diglets are they really dating material? Pokéstops could become speed dating sites. Or the app could be used simply for platonic meet-ups. There is a lot of opportunity here for the Pokémon thinking app developer."
So that leads to a real question - can Pokemon Go be the new Tinder?
It may already be so. According to ComicBook.com, a web platform that covers pop culture and tech, social media users are figuring out ways to use the Pokemon game for dates. The article referenced Reddit user UnityTreeofSavior, who said he met someone outside while playing the game and the two agreed to go on a date the following week.
A husband and wife similarly have used the game for their own version of date night.
"We drove from poke-stop to poke stop and caught a tonne of Pokemon while chasing down silhouettes of Pokemon along the way," the husband wrote on Reddit. "It was way more fun than it sounds and we ended up having good luck with servers until we came home after midnight. It was a simple and inexpensive date, which we plan to do again. If you have a SO who is into Pokemon, make it a date!"
Reddit user Bonanzi said something similar.
However, not all relationships have benefitted from this fun little Pokemon game. According to BuzzFeed, real couples have shared on social media how their relationships are falling apart because of the app. Though most of them are in jest, the common theme seems to be that couples are spending time apart because they're too focused on playing the game.
Still, this may be the way of the future when it comes to dating. According to the Pew Research Center, the majority of Americans say that online dating is a good way to meet people.
"Today, nearly half of the public knows someone who uses online dating or who has met a spouse or partner via online dating - and attitudes toward online dating have grown progressively more positive," according to Pew.
In fact, 5 percent of Americans who are married or in a long-term committed relationship said they met their partner through online dating.
Still, as Pew reported, the majority of couples meet their future partner offline, with 88 percent saying they did so without the help of a dating app.
This may be why Pokemon Go would be a nice meeting in the middle, as it combines both the blindness of online dating with the forced social interactions of an offline date, according to ComicBook.com.
"In a few years," the website said, "we may even see some Pokemon GO themed weddings to celebrate the lucky couple's first date."