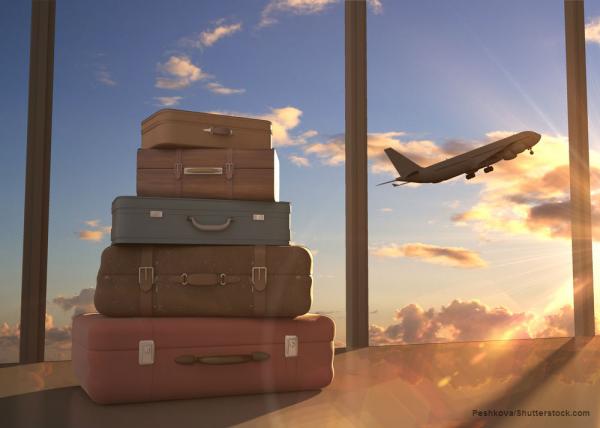 Traveling with kids anytime can be overwhelming, add in the holidays and that takes things to another level! While traveling during the busier months you must factor in, weather delays, traffic, illness, and so much more. Here are 10 travel tips to consider whether you have little ones or older kiddos.
1. Pre-planning is essential.
Research, research and research some more. Planning an itinerary for your trip can make traveling with your kids a bit easier! Make sure everyone is on the same page before you're on the way. Another important tip to remember is to try and avoid landing during rush hour. Always know your next move, this will help you get to the destination quicker and maximize time. If you're driving make sure you have your car checked out before you hit the road, the last thing you and your family needs is to be broken down in the middle of nowhere.
2. Don't procrastinate.
It may sound obvious, but starting early is the best way to get the flights you want for less, especially during the in-demand holiday season when there is little flexibility with dates. Once you find out where you're going, do not delay purchasing tickets for holiday programs. These events tend to sell out quickly and you don't want to miss out.
3. Be flexible.
Try to be flexible wherever you can, whether it's with your travel dates, departure and/or arrival airport, or destination. If you're heading home for the holidays, for example, your destination may be set in stone, but can you fly a few days early or, perhaps, on the actual holiday to save? Is it cheaper to fly into a nearby airport than the one in a major city? Considering all your options can save you money, but it can also save you the stress of holiday crowds.
4. Plan your flights around bedtime.
Try to plan your flights around bedtime. Evening flights are a bit more pricey, but it will make traveling a breeze while your child is fast asleep. If you're in an unfamiliar airport be sure to book your connecting flight with a good amount of time. The last thing any parent needs is a mad dash through the airport with the added stress of potentially missing a flight.
5. Pack lighter, smarter, and faster.
The less you bring, the easier it is to pack, and the less you have to carry! If you find you're missing something you need, you can always buy it at your destination. Most places you travel with your kids will probably have the essentials you need to care for them.
6. Talk to your little ones about the adventure.
If your child is new to flying or traveling in general, it's important to have a conversation with them. Explain to them what is going on throughout the trip. When they have to fasten their seat belts make sure you tell them why. Most children enjoy flying, so the best thing to do is encourage them. We all know they ask a million questions, so make sure all basis are covered.
7. Ensure that snacks are covered.
Snacks are essential for traveling with kids. You never know when you'll be able to make a quick stop to pick up things. "I can't emphasize this enough, hunger can make a difference between happy and angry kids," says Sharron. "It is a must to have snacks available for kids at all times."
8. Entertainment is a necessity for long trips.
Nothing is worse than a crying child on a long trip. It's very important to make sure you bring their favorite toys and games to keep them happy. Keep your child entertained by providing them with a mix of fun and educational apps on electronic devices. Although, it can be difficult trying to figure out which apps are kid-friendly and worth the download. Epic! is an app for kids with an e-book library that contains over 35,000 children's books. It even includes a read-to-me feature for kids that are still learning to read. Another great option is Toca Hair Salon 3. This app is perfect for kids who want to play dress up. Kids can use this app to imagine, explore, and express their creativity. Your child will be busy playing and learning with these apps as long as you don't forget the charger!
9. Less is more!
Your itinerary with the kids should be limited to one single activity for each day. Don't get too overwhelmed because you want to take this time to enjoy your family. If there are a number of things scheduled all at once, you'll be so tired and won't enjoy the trip. It's always important to schedule in naptime as well as downtime. Unwind and relax by hanging by the pool, going to a park, or even seeing a movie.
10. Bring the travel sized basics.
It can be a challenge having a child that doesn't feel good while you're traveling. It's always a good idea to pack over the counter medications for upset stomach, allergies, or any prescriptions first, that way you're less likely to leave them at home. If you're traveling out of the country check the regulations on what medications you can bring. You can carry a letter or copy of your prescription from your doctor to certify that the medicine has been prescribed to you to treat a medical condition, that way if you run into any issues you'll be covered!
Traveling with kids can be a great experience. It is filled with family fun all while creating wonderful memories together. Be prepared to battle hunger, thirst, and boredom on long trips. Everything might not go exactly how you planned, but your family will love adventure and will be eager to go on another trip. The tips above will make your journey easier and more fun for everyone. Happy holidays and happy travels!