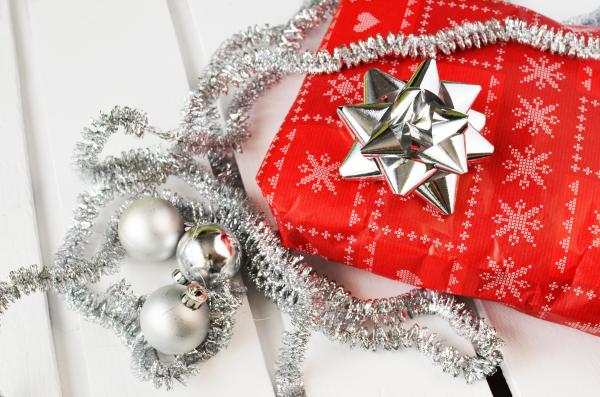 Husbands are notoriously hard to shop for. They don't like change, but still want to be wowed. This year, forget the Santa sweater and never-used bottle of beard oil, we searched high, low, and everywhere in between, to find your hubby the best presents ever.
Cozy Throw Blanket
Your always-cold husband will love a good throw blanket he can use all winter long, whether it's handy in his home office or strewn over his arm chair as he watches his favorite sports teams. This option is especially thoughtful if it's something he wouldn't consider buying for himself.
New Pajama Set
Let's be real - the old torn up outfits your husband has been wearing to bed just have to go. This is the best Christmas gift for your husband (or Christmas Eve gift, so he can wear them to open his other presents). Of course, the set you should be should be classic and comfy. Next thing you know, he may just start sporting it to bed every night.
Classic Movie Box Set
Streaming may be king these days. When it comes to classic films though, sometimes throwback Blu-ray or DVD is a better bet. Getting a special collection of his favorite film series will not only be entertaining for him throughout the years, but is a great way for you two to spend time together as well. Choose a set that he may not have seen in a while but was really fond of growing up.
Detailed Cook Book
Does your guy know his way around a grill or just really, really wants to learn? He'll love a fun, fire-centric cookbook. If he hasn't been using his new grill you got him last year, this might spark some new and unique ideas to help him get back to the kitchen. This is also a great conversational piece he can use with friends. Sharing recipes is a great way to bond.
Custom Puzzle
Does your guy get a kick out of puzzles in his spare time? Get him a difficult (at least 400-piece) game that's personalized for him. For example, you can choose his hometown, the city you met in, a family photo, or even your pet and get it printed on the board. This will make the game solving even more fun and personable.
Coffee Subscription Service
Subscription boxes are all the rage right now. You can get a monthly box sent to your home for just about anything. If your husband loves coffee, consider getting him a subscription box where he can try new, tasty versions every month. Before it gets sent to your home, your husband will be able to take a quiz full of questions about his flavor preferences, brewing methods, and more.
Personalized Pen
If your guy likes to doodle, jot down his thoughts at work or even has a novel in the works, he'll love a fancy pen set he can take everywhere. You can even choose one that is personalizable, so engrave it with his name for an extra-special gift for your husband.
Make Your Own Hot Sauce
Since most men can handle way more spice than an average bottle of Tabasco, he might as well make his own hot sauce until it matches his desired heat. Included in many of these cool kits are bottles for packaging, spice packs, instructions, and customizable labels that let him package his creations. Then, you all can try out his unique and flavorful sauce as a family.
Fancy Telescope
If your guy's into astronomy or just beautiful and traditional desk ornaments, a fancy telescope is a creative gift for him. Many come fully functional. They can be created in all styles of wood or metal, for example they can be rendered in red beech wood and gold-tone brass if that fits his aesthetic. Some are on the pricy side, but is a gift that will last generations.
A Bar Cart
Is your husband a fan of all things fine wine or nice whisky? A bar cart is an amazing gift idea for your husband that you'll use too. It'll be a chic addition to your living area, and he'll have a way to stylishly stash his favorite liquors. It's a win-win situation, and is incredibly helpful when hosting others for a party.
New Luggage
If your husband travels a lot, it is likely that his luggage has seen some better days. A nice, durable carry-on bag might be just what he needs for Christmas, and doesn't even realize it. There are many bags out there now that offer very unique features. For example, some have a front opening pocket perfect for the size of a laptop that makes getting through security at the airport a breeze.
A Nostalgic Board Game
A vintage board game, that the family can play together, is a great gift idea for any husband. It will remind him of fun times growing up with his siblings, and now he'll be able to experience those same games with his kids. You might be surprised by the stories you've never heard of before of his childhood that he shares when he breaks open the box. It'll be an amazing conversation starter when you have friends over too. Think of games like "Sorry!" or the "Game of Life."
A Fun Bar Tool
What's more fun than popping bottles? Sabering bottles. Let him wow your friends and family at every celebration by gifting him his very own champagne sword. Just tell him to be careful. If that sounds a bit risky, there are cool cocktail shakers you can get that are shaped into his favorite animal, like a whale. Furthermore, you could find cool ice molds for the drinks.
Your husband will love that you took the time to think up some unique and creative ideas this Christmas. Show him how much you really care by really identifying his hobbies and picking something that would suit his interests. It will make for a gift that will be used for years to come.