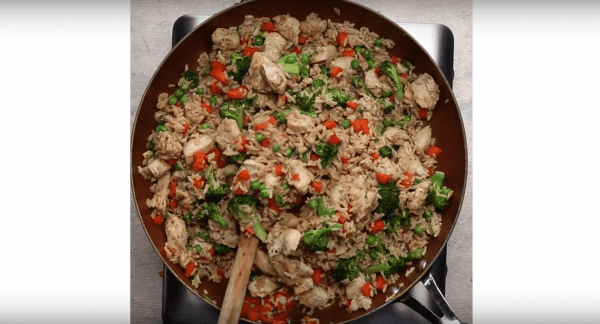 Sometimes it seems impossible to find a recipe that is healthy, easy and delicious all at the same time. We've done the research for you and found a bunch of recipes that fulfill all those requirements for every meal of the day (including dessert, of course).
Breakfast
1. Breakfast Burritos
Breakfast burritos are great on so many levels - they're easy to whip up, super versatile and you can make a bunch at once and freeze them for a quick but healthy microwave breakfast. Make sure to throw in some spinach, tomatoes, mushrooms, zucchini and bell peppers to start your day with some veggies.
2. Fruit & Veggie Smoothies
These smoothies are packed full of healthy fruits and vegetables along with protein to keep you and your family full until lunch. Plus, smoothies are a great way to keep everyone's tummy happy during busy, on-the-go mornings.
3. Breakfast Cookies
Yes, you and your family can have cookies for breakfast. Oats are both heart-healthy and filling, and the mashed bananas act as a natural sweetener. Plus, they're super versatile - add whatever toppings your heart desires and nut butter for a protein boost.
4. Muffin Tin Breakfasts
Who knew you could do so much with your muffin tin? The great thing about all three of these recipes is that there's a serving of fruit or veggies in each one. You can also double or even triple the recipe to make a bunch at once and save for future, easy morning breakfasts.
Lunch
5. Baked Chicken Fingers
This recipe is a much healthier alternative to deep fried chicken fingers. The chicken is full of lean protein and if you serve them with a side of fruit and veggies, you'll be all set. Let your kiddos join in the fun and make this yummy, healthy meal together.
6. Hidden Veggie Mac and Cheese
This recipe is especially great for picky eaters who refuse to eat their veggies. Serve up this simple, homemade mac and cheese and your kids won't even know they're getting one of their favorite meals and a bunch of veggies at the same time.
7. Four Rotisserie Chicken Lunches
Rotisserie chickens are well known for making dinner easier, but have you used them to make lunch even easier? Try out these tasty, healthy lunchbox recipes.
Dinner
8. Tomato Mozzarella Chicken
Whip these bad boys up in no time. They're a lot more flavorful than plain old baked chicken breasts and they're sure to keep your family's tummy happy and healthy.
9. Mini Shepherd's Pies
Your kids will love getting their own individual pie for dinner. With so many veggies, there's hardly a healthier recipe out there.
10. Chicken Fajita Bombs
A fun take on normal fajitas, this low carb option is fun and filling. Your kids will be excited to cut into their chicken and find the hidden cheese inside.
11. Easy, Healthy Fried Rice
This recipe is ridiculously simple and 100 times healthier than take out. Your family will gobble up this classic Chinese dish without even realizing how healthy it is.
Dessert
12. Frozen Yogurt
You know a recipe is easy and healthy when it only has a few ingredients. These four flavors of frozen yogurt are quick to whip up and your family won't even know the sweet treat they're enjoying is actually full of fresh fruit and protein.
13. Spinach Avocado Brownie Bites
Yep, it sounds gross at first. But the spinach is undetectable under the chocolate and the avocado actually makes for a richer and creamier brownie.
14. Three-Ingredient PB cookies
Everything about this recipe is great - it's simplicity, it's quickness and it's yumminess. Plus, I doubt you'll be able to find a cookie with more protein!