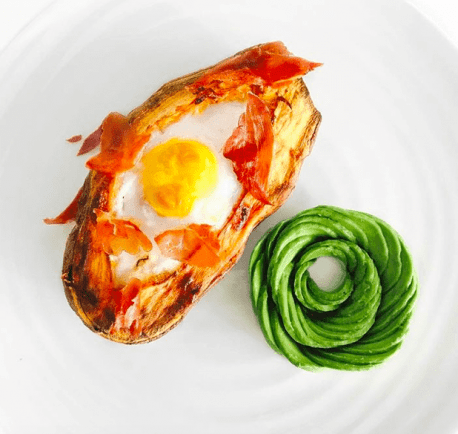 My go-to breakfast used to be cereal or a piece of toast. While quick and easy, they both left me reaching for my lunch around 10:30, which I didn't love. Luckily, there are a dozen-plus meals that are almost as quick and are so packed with protein that they'll actually keep you full until lunch:
Boiled eggs and avocado
Do yourself a favor and keep peeled and boiled eggs in your fridge. Then when you wake up, all you need to do is just chop the eggs and top with diced avocado. Add herbs or add some hot sauce (like Pop Sugar suggests) and eat as-is, add to toast or onto a bed of greens.
Baked eggs in peppers
Community Table outlines the specific instructions but here's the gist: Just cut the peppers into shallow cups, add a cracked egg, season, and roast for 25 minutes while you finish up your hair and makeup. Yum.
Chia pudding
This recipe by Slender Kitchen is less than 200 calories but has 19 grams of protein, thanks to Chia seeds, Greek yogurt and a bit of milk. To make things a little bit sweet, serve with berries.
Sweet potato breakfast burritos
Ambitious Kitchenpoints out that this recipe is freezer friendly, so do some meal prep on Sunday and eat well the entire week - just smear sweet potatoes onto a wheat tortilla and top with cumin-spiced black beans, a little cheese, avocado and a couple other ingredients and you're set.
Breakfast quinoa
Move over, oatmeal. Quinoa adds tons more protein to a breakfast favorite (even if it does take a bit longer to prepare). Just prep a big pot on Sunday and you'll be set for the rest of the week - click here for the recipeor follow the instructions on the picture.
Shakshuka
Feeling fancy? Try this brunch favorite. Pro tip - make the spicy tomato base on the weekend without the eggs. Then just spoon a small portion into a pot each morning, add the eggs and wake up to fresh Shakshuka in minutes. There are lots of recipes out there, but I'm partial to the one by The New York Times.
Breakfast muffins
These little egg muffins can be topped with whatever veggie or meat you'd like. Plus they're just as portable (and way more healthy) than anything you'd find at a bakery.
This turkey sausage muffin recipe has 12 grams of protein with only 150 calories per muffin. Yum.
Frittata
Your favorite veggies and eggs turn into a protein-filled frittata that you can dress up however you'd like - serve with toast, top with cheese or slice yourself a wedge right before you walk out the door. You'll find all types of recipes online, but we love how flexible this recipe is from The Kitchn.
Cottage cheese toast
If you can't give up eating toast for breakfast, add some protein by smearing your toast with a hefty spoonful of cottage cheese. It's low in sugar and calories but high in protein. Then top with avocados and nuts for a savory version or a sprinkle of cinnamon and raisins to make it just a bit sweet.
Twice baked breakfast sweet potatoes
Plaid and Paleo walks you through every step - it's an easy recipe, and it just takes a few minutes to bake up these beautiful baked breakfast sweet potatoes.
Avocado smoothies
Smoothies are quick but are all too often low in protein and high in sugar. Bust both of those problems by adding chia seeds for protein, and replacing sugary bananas with frozen avocados instead. You'll get that same creamy texture without all the sugar.
Deli roll up
Smear cream cheese on deli meat and roll it up. Serve with fruit and some other options for a little charcuterie-inspired way to start your day.
Beans on toast
Take some inspiration from England with this DIY versionof homemade beans on toast. Making your own beans lets you control the sugar but doesn't sacrifice taste (or the protein content).
Chickpea pancake
This blogger has outlined a savory pancake we can all get behind. The chickpea flour is high in protein and the toppings are so endless, you won't miss the sugary maple syrup.