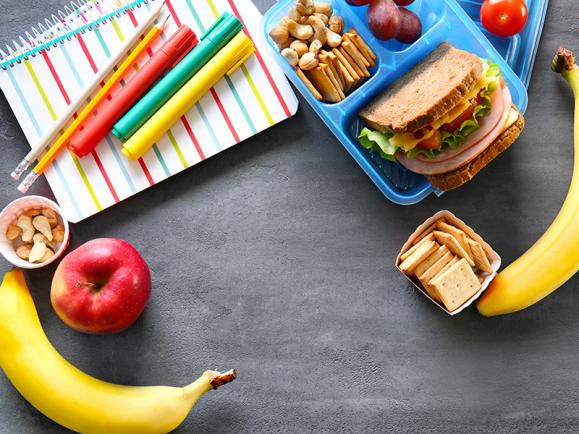 Here is a collection of 21 Back-to-School Lunch Recipes that your kids will love! There are whole lunches, side dishes, healthy snacks, salads, sandwiches, roll ups, healthy cookies and chips, and more!
Before I became a stay-at-home mom I was a teacher. I absolutely loved teaching and at times miss it dearly. Looking back, I think I was just as excited as some of my students at the start of the school year: bouquets of freshly sharpened pencils, newly designed bulletin boards, and of course new clothes!
One of my favorite things to do as a teach was eating lunch with my students in the cafeteria. I especially enjoyed seeing their reactions when they opened their lunch box and their mom, dad, grandma, grandpa, older sibling, etc. had packed something special for them. Whether it was a favorite treat, a note, or their sandwich cut in a special way. I saw time and time again that something as tiny as a note in a lunch box could brighten a kid's day. I know it sounds silly, but I've been eagerly waiting for my own kids to go to school so I can make their day with a special lunch. I love turning their favorite foods and peanut butter and jelly sandwiches into special lunch creations.
Below are 21 easy, delicious and fun lunch box recipes to help you kick off the new school year!
1. Back to School PB&J Sandwich From Food Folks and Fun
Your kiddo will love seeing this Fish Cut-Out Back-to-School Peanut Butter and Jelly Sandwich at lunchtime. I guarantee that it will put a smile on their face!
2. Homemade Granola Bars From Salt & Baker
Homemade Granola Bars are so easy to make. They are the perfect snack recipe whether it's for a lunch, school lunch, picnic, or just for munching on.
3. Healthy Oven Baked Zucchini Chips From Wholesome Yum
See how to make zucchini chips in the oven OR dehydrator, with just 3 ingredients! This Healthy Baked Zucchini Chips recipe is so EASY! Low carb, keto, gf, and paleo, too.
4. Lunch Box Pizza From Food Folks and Fun
Your kids will love seeing these mini Lunch Box Pizzas in their lunch boxes. They're easy to prepare and so fun, too!
5. On the Go Veggie Dip Cups From Totally the Bomb
Stack a few of these On the Go Veggie Cups in your fridge for easy lunch box assembly or even after school snacks! The flavor combos are endless with these!
6. Lunch Box Tacos From Food Folks and Fun
Kids will LOVE eating these Lunch Box Tacos at lunchtime. They're easy to prepare, and your kids make them themselves!
7. Cucumber and Cream Cheese Sandwich Rolls From Christina's Cucina
Cucumber Pinwheels, or cucumber and cream cheese sandwich rolls, are always a huge hit, no matter where or when you serve them. They're not just good for packed school lunches, they're also great for picnics, BBQs, afternoon tea or even a light dinner!
8. Tuna Salad Cucumber Boats From Peas and Crayons
Tuna Salad Cucumber Boats are a fun and delicious way to eat tuna salad! Serve these open-faced cucumber "sandwiches" as healthy lightened up lunch! They're easy to make and easier to customize with your favorite veggies and toppings.
9. Noodle Packed Lunch Salad in a Jar From Fuss Free Flavours
This Noodle Packed Lunch Salad in a jar is the perfect healthy lunch to pack in your kiddo's lunch box. It's loaded with noodles, bean sprouts, chickpeas, and veggies!
10. Gluten-Free Vegan Banana Oatmeal Cookies From Rhian's Recipes
These Gluten-Free Vegan Banana Oatmeal Cookies are soft, chewy, and perfectly sweet. They make a satisfying and a healthy dessert for school lunches.
11. No-Bake Energy Bites From Salt & Baker
These No-Bake Energy Bites are a low calorie, healthy, and EASY snack! A guilt free, energy boosting, perfectly portioned (and PORTABLE) snack for lunch boxes and after school snacks!
12. Healthy Veggie and Hummus Tortilla Rollups From Peas and Crayons
These easy Vegetarian Hummus Veggie Tortilla Rollups are one of my favorite speedy lunches for my kid's school lunches! They're super portable and loved by both kids and adults!
13. 4 Ways to Use Leftover Chicken Salad For School Lunches From Tonya Stabb
You can make a large batch of chicken salad at the beginning of the week and pack it in your kiddo's lunch as pinwheels, lettuce wraps, dip with crackers, or a croissant sandwich.
14. Ham and Cheese Pin Wheels From Ruffles and Rain Boots
These Ham and Cheese Pinwheels are easy to make and fun to eat. They're a perfect option for a picky eater's lunch box.
15. Cheese Burger Roll Ups From Dancing Through the Rain
This is a great recipe for using up leftover ground beef. Kids will love seeing one of their favorite comfort foods made into a fun school lunch!
16. Avocado Tuna Salad From Love & Good Stuff
Avocado Tuna Salad jazzes up the classic tuna salad sandwich by adding a Mexican twist by trading the mayo for avocado, and flavoring it with cilantro and lime.
17. Homemade Jello Cups From Attainable Sustainable
Real strawberry jello doesn't come out of a box. It starts with fresh fruit and real ingredients. These Jello Cups are packaged in reusable containers, and it's a great addition to school lunches or after school snacks.
18. Peanut Butter and Jelly Muffins From Attainable Sustainable
These peanut butter and jelly muffins are perfect for snacking or school lunches. They combine your favorite flavors in a less-messy, portable lunch main dish. You'll probably want to double the recipe because the kids will gobble them up!
19. Unicorn Sandwiches From Step Momming
Surprise your kids with their favorite mystical creature as the star of their lunch, the sandwich! You can make Unicorn Sandwiches using PB&J or cold cuts and cheese.
20. Hello Kitty Bento Lunch From Totally the Bomb
How cute is this Hello Kitty Bento lunch?! Not only is it so fun to look at, but it's loaded with fruits, veggies, and ingredients you won't feel guilty about!
21. Lunch Box Quesadillas From Shaken Together
Move over boring cold sandwiches! These crispy, cheesy Lunch Box Quesadillas with Dipping Sauces will make lunch time so much more delicious and fun, too!