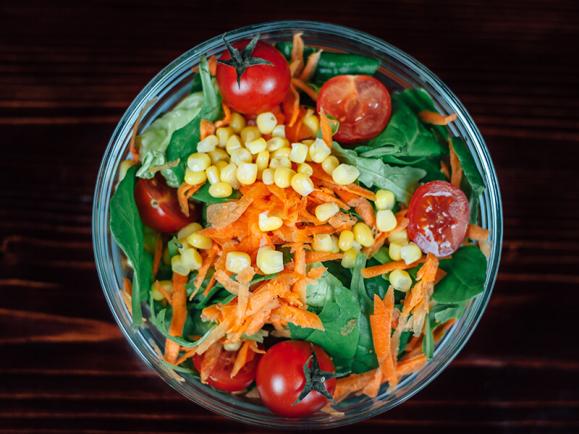 The beginning of the year is always a time for reflection and setting new goals or resolutions for the coming year. If you're anything like most of the adults living in the United States, then you're probably setting some sort of health goal for the coming year.
That's why I compiled this list of 25 dinner recipes that are all under 400 calories per serving! This list will keep you fed and satisfied as you settle into your new eating habits. Let's get started! 
25 Dinner Recipes Under 400 Calories 
This easy baked salmon recipe is made in just 20 minutes and is completely delicious. It's topped with a quick and vibrant 1-minute lemon vinaigrette.
Slow Cooker Italian Harvest Soup from Easy Budget Recipes
This Slow Cooker Italian Harvest Soup is easy to make and SO flavorful! It serves 8 people and costs just $6.86 to make and 86¢ a serving!
Slow Cooker Salsa Chicken (Gluten-Free, Paleo) from Strength and Sunshine
The most delicious, moist, and easy slow cooker chicken yet! Slow Cooker Salsa Chicken requires just a few ingredients: your favorite salsa, some spices, and the chicken! The perfect healthy, gluten-free, paleo weeknight dinner to please everyone! 
Whole 30 Turkey Burgers with Chipotle Ketchup from Cook at Home Mom
These delicious burgers are great for the entire family, budget-friendly, and Paleo and Whole30, too! 
Vegan Thai Pumpkin Curry from The Recipe Well
This Thai Pumpkin Curry is an easy weeknight meal that is also perfect for meal prep! You will love the creamy sauce made from coconut milk, pumpkin purée and red curry paste, combined with a medley of fresh vegetables and chickpeas.  
Keto Beef Stew from Keto Cooking Wins 
With big, bold and BEEFY flavors, this is the world's Beefiest Beef Stew! Big chunks of beef and hearty root veggies lend plenty of taste and texture to this family-friendly dish.
Lemon Chicken with Potatoes and Artichokes from Food Folks and Fun 
This Lemon Chicken with Potatoes and Artichokes recipe is a super simple weeknight dinner recipe that everyone loves and is fancy enough to serve when company comes over.  
Ground Turkey Lettuce Wraps with Cilantro Lime Dressing from Key to my Lime
You'll love these ground turkey lettuce wraps with cilantro lime dressing! They're healthy and full of amazing flavor. The slaw adds a delicious crunch!
Cabbage and Sausage Skillet from Dancing Through the Rain
This delicious cabbage and sausage recipe is a fantastic and easy dinner dish, but it is also keto, paleo, dairy free, gluten free and Atkins diet friendly! Get your protein and your vegetables all in one bowl!
Chinese Chicken Curry from supergolden bakes 
Forget takeaways, this easy Chinese Chicken Curry is packed with flavour, ready in 30 minutes and only 300 calories per serving.
Vegan Minestrone Soup from Green Bowl 2 Soul 
Vegan Minestrone soup is a delicious, hearty, Italian soup made with lots of vegetables, greens, beans, and pasta or rice. It tastes best with crispy garlic bread.
Large Batch Chicken Noodle Soup from Easy Budget Recipes
This homemade Chicken Noodle Soup is slightly creamy and seriously crave-worthy! It's easy to make and will feed 8-10 people! It costs just $6.73 to make and 85¢ per serving. 
Juicy Air Fryer Salmon from Recipes from a Pantry 
Ready to make juicy salmon fillets in your air fryer? This recipe for Air Fryer Salmon is so easy and gives you delicious, perfectly cooked salmon every time.
Sloppy Janes from Food Folks and Fun 
Let me introduce you to Sloppy Joe's leaner, healthier & sassier sister, Sloppy Jane. This recipe is quick and easy to make and it tastes fantastic! This Sloppy Jane recipe is low on fat and high on flavor with loads of veggies and lean ground turkey.  
Baked Fish en Papillote in Foil Packets from Emily Kyle 
Cooking Baked Fish en Papillote in Foil Packets is the easiest and most delicious, fool-proof way to cook fish perfectly – every single time. This method is easily customizable and can be used for baking any of your favorite fish recipes.
Spaghetti Squash Boats with Black Beans from Beyond the Chicken Coop 
Spaghetti squash filled with black beans and enchilada sauce. This entire dish is topped with cheese and baked until piping hot.
Easy Baked Pork Chops with Apples from Easy Budget Recipes
This Baked Pork Chops recipe is easy and tastes delicious, especially with apples baked right on top! It serves 6 people and costs just $11.60 to make. 
Healthy Shrimp Scampi Spaghetti Squash from Skinny Fitalicious 
Healthy Shrimp Scampi Spaghetti Squash! Packed with flavor and simple to make. A lower carb meal with more nutrition by replacing pasta and a lightened up sauce with heart friendly ingredients. 
Mediterranean Vegetable Casserole from Neil's Healthy Meals 
This Mediterranean vegetable casserole is not only packed full of flavour but with loads of healthy veggies, this fantastic vegan family dish is also extremely filling and satisfying!
Thai Coconut Vegetable Curry from The Kitchen Girl
Vegan Thai Coconut Vegetable Curry is a scrumptious, easy, Thai curry recipe with a medium heat level and distinct Asian flavors. Loads of everyday vegetables are simmered in a coconut curry red sauce. This plant-based comfort food is ready in 30 minutes and meal-prep friendly! 
Chicken Enchilada Stuffed Bell Peppers from Belle of the Kitchen 
Chicken Enchilada Stuffed Peppers - a delicious, low carb dinner that is full of the Mexican flavors you love! Once you try this healthy twist, you won't even miss the tortillas!
Sweet Potato Curry from Contentedness Cooking
This Sweet Potato Curry is made with simple and fresh ingredients and taste seriously so delicious. Satisfying and packed with flavor. 
Skinny Lemon Chicken Piccata from Kroll's Korner 
Lemon Chicken Piccata with Zoodles are great for an easy weeknight dinner but also fancy enough for a dinner party. This Classic Italian dish has proved a favorite year after year and my variety is lightened up with zucchini noodles! 
Chili Garlic Chinese Noodles from Profusion Curry 
Delicious Chili Garlic Chinese noodles with colorful veggies and tofu are drenched in spicy sambal oelek sauce and Chinese 5 spice to create amazingly flavourful meal. These vegan noodles are perfect for Asian inspired weeknight dinner.
Healthy Borscht Soup from Irena Macri
Made with nutritious beets, cabbage and root vegetables, my Ukrainian paleo and vegan borscht (also known as borsh, borsht, or борщ) is perfect as a dinner meal or hot lunch. Serve with a dollop with sour cream, dairy-free alternative or without. This is a gluten-free and Whole30 friendly recipe.
There is a ton of variety to choose from everything from soups to curries, to air fryer recipes, and everything in between! Which dinner recipe are you going to try first?