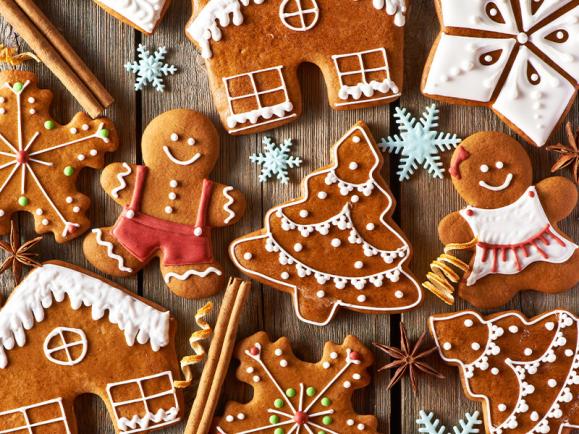 When should you take a gingerbread cookie to the doctor? When it feels crummy!
What does the gingerbread man put on his bed? A cookie sheet!
Those are some funny jokes about gingerbread, but I promise the recipes I have gathered for you are no joke! Christmas is right around the corner, which means it is time to start baking! Ginger is a classic flavor for the holidays, and baking with ginger at Christmas time is a must in my book!
It's fun to bake traditional family holiday recipes, but it is always fun to try new ones, too. These fabulous recipes will all show you exactly how to make gingerbread in new and inventive ways. You'll also find a bunch of gluten-free and vegan recipes, too.
So whether it is gingerbread cookies, gingerbread truffles, or a gingerbread cake, try a few of these recipes before Christmas. You may find a new favorite recipe, like some super soft gingerbread cookies, that can become a new tradition in the years to come.
Gingerbread Cookie Recipes
Hanging Gingerbread Cookies from Food Folks and Fun
This Hanging Gingerbread Cookie recipe is a unique spin on the classic. Just add a small candy cane to the back and hang the cookies from a cup of cocoa!
Chocolate Dipped Gingerbread Cookies from Easy Budget Recipes
This Chocolate Dipped Gingerbread Cookies recipe is easy to make and so festive. It costs just $7.38 to make this recipe, that's only 31¢ per cookie!
Classic Gingerbread Men from Sugar Spun Run
This is a simple and delicious recipe for classic Gingerbread Men! They're made with all butter for the best flavor. They're perfectly spiced with molasses, ginger, cinnamon, cloves, and nutmeg, and decorated with a sweet and simple frosting.
Easy Gingerbread Reindeer Cookies from Major Hoff Takes a Wife
Gingerbread reindeer cookies are an adorable Christmas treat! No cookie cutters are needed to make these cute, tasty, gift-worthy gingerbread cookies for the holidays!
Easy Vegan Gingerbread Cookies from 24 Carrot Kitchen
Just a few ingredients are needed for these grain-free, gluten-free, and dairy-free cookies Vegan Gingerbread Men Cookies.
Chewy Gingerbread Cookie Bars from Food Folks and Fun
These soft & chewy Gingerbread Cookie Bars couldn't be any easier to make! They are deliciously spicy with just the right amount of cream cheese frosting!
Honey Gingerbread Cookies from The Monday Box
These chocolate-dipped Honey Gingerbread Cookies are chewy with lots of honey flavor warmed with cinnamon and ginger. These cookies are made with an easy-to-work-with dough that makes using a cookie stamp or molds a breeze!
Keto Gingerbread Cookies from Real Balanced
On the keto diet? Well, you can enjoy gingerbread with these cute little gingerbread cookies.
Gingerbread Spritz Cookies from My Sequined Life
Gingerbread spritz cookies are buttery and spiced with classic gingerbread flavors in this easily shaped version of gingerbread cookies. This spritz cookie recipe makes more than enough for a crowd.
Gingerbread Cake & Cupcakes Recipes
Gingerbread Cupcakes with Cinnamon Cream Cheese Frosting from Food Folks and Fun
These spicy, delicious Gingerbread Cupcakes with Cinnamon Cream Cheese Frosting are just the treat for holiday parties, bake sales, and more!
Gingerbread Pumpkin Roll from Northern Nester
Pumpkin and Gingerbread together sound like a warm and cozy match made in heaven! This festive cake roll is just the thing for holiday parties and get-togethers.
Old Fashioned Gingerbread Cake from An Italian in My Kitchen
Old Fashioned Gingerbread Cake is a moist and delicious cake that's served simple or with a dollop of Cinnamon Whipped Cream.
Gingerbread for One from One Dish Kitchen
This incredible gingerbread recipe is perfect for the holidays or any time of the year! A small batch of sweet, perfectly spiced old fashioned gingerbread. This "gingerbread for one" is easy to make and is the perfect amount for one or two people.
Gingerbread Mug Cake with Caramel Syrup from The Monday Box
Gingerbread Mug Cake with Caramel Syrup is bursting with wintery flavors! Satisfy your seasonal sweet tooth with a 1-minute microwave cake mix mug cake full of spicy holiday ginger and plenty of sweet caramel!
Gluten-Free Gingerbread Cake from Faithfully Gluten Free
If you're looking to wow your guests this holiday season, this Gluten-Free Gingerbread Cake with Eggnog Cream Cheese Frosting is for you!
Gingerbread Dump Cake from The Typical Mom
This gingerbread dump cake is moist and delicious with all the Christmas flavors you crave! Serve an easy gingerbread cake for brunch or dessert this year. Great recipe loved by all.
Gingerbread Bundt Cake from Salt & Baker
Ring in the holiday season with this festive Gingerbread Bundt Cake! This is a show-stopping holiday cake that you and your family will love.
Gingerbread Cheesecake from The Suburban Soapbox
Rich and creamy Gingerbread Cheesecake is nestled in a crisp gingersnap crust and topped with smooth, sweet, tangy glaze before being dressed with holiday gingerbread men. This easy to make dessert is excellent for a crowd and will be the highlight of the party.
Gingerbread Confections Recipes
Gingerbread OREO Truffles from Food Folks and Fun
These Gingerbread OREO Truffles are easy holiday treats that are great for Christmas parties, cookie exchanges, and gifting!
Gingerbread Fudge from Thrifty Jinxy
This gingerbread fudge recipe combines two Christmas classics into one delicious treat perfect for gift giving or holiday cookie trays!
Breakfast Gingerbread Recipes
Gingerbread Waffles from Food Folks and Fun
These Gingerbread Waffles are the perfect breakfast for the holiday season. They're a little bit spicy, a little bit sweet, and utterly delicious.
Gingerbread Scones from Belly Full
Gingerbread Scones are tender, flaky scones that are studded with golden raisins and gingerbread spices. They're topped with a beautiful molasses glaze!
Gingerbread Granola from One Dish Kitchen
Enjoy the warm spices of the season in this wintertime Gingerbread Granola. Filled with nuts, oats, molasses, and maple syrup, it's perfectly spiced and great for breakfast or to snack on.
Gingerbread Hot Chocolate Mix from Major Hoff Takes a Wife
Gingerbread Hot Cocoa Mix is excellent for those cold winter mornings, and it's the perfect gift for neighbors! Included in the recipe post are free printable gift tags.
Flourless Gingerbread Muffins from Marisa Moore Nutrition
This vegan flourless gingerbread muffin recipe includes fresh ginger, molasses, and spices and tastes like the holidays. These make-ahead gluten-free muffins use oat flour and no refined sugar for a healthy Christmas morning breakfast or snack!
Gingerbread Banana Muffins from A Nerd Cooks
These Gingerbread Banana Muffins are spicy like gingerbread, but super moist thanks to the addition of bananas. These delicious muffins will convince you not to limit your consumption of gingerbread goodies to Christmastime!
Gluten-Free Gingerbread Donuts from Gluten-Free Palate
Did someone say Gluten-Free Gingerbread Donuts? Tender, fluffy donuts with hints of ginger, cinnamon, and cloves – the ultimate gingerbread treat.
Other Gingerbread Treats
Gingerbread Cheesecake Dip from Food Folks and Fun
This Gingerbread Cheesecake Dip is always a party favorite for the holidays. Make it for your next holiday get together, and I guarantee you'll be the most popular person in the room!
Gingerbread Biscotti from Of Batter and Dough
Gingerbread biscotti, dotted with chunks of ginger chocolate bark & served with a steaming mug of coffee or hot cocoa, is the perfect treat on a cold day.
Soft Gingerbread Whoopie Pies from Num's the Word
Soft Gingerbread Whoopie Pies with a Cinnamon Cream Cheese Frosting are easy, delicious, and stay soft for days! These are a gingerbread lover's cookie!
Gingerbread Rice Krispies Treats from Fresh April Flours
The classic Rice Krispies Treat gets a holiday update with this Gingerbread Rice Krispies Treats recipe. They're spiced with molasses, cinnamon, and ginger and drizzled with spiced white chocolate. They're great for holiday cookie trays!
Festive Gingerbread Churros from Happy Foods Tube
Festive gingerbread churros will bring you one step closer to the Holiday season! These candy cane-shaped homemade churros are best served with thick hot chocolate.
Which recipe will you start with? I can't wait to try the gingerbread cheesecake! No matter which recipe you choose to make, one thing is for sure, your house will smell amazing and just like the holidays.