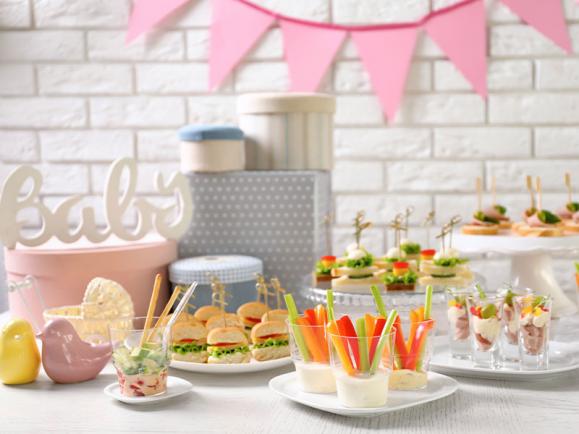 I love parties. I love hosting them, planning for them, and decorating for them. I am always looking for an excuse to throw a party. I just think parties are so much fun. The best part of any party is always the food! Before I plan the decorations, I first plan the food theme. Is it backwards to do it this way? Maybe, but it's how I roll!
One of my favorite types of parties to throw are baby showers And not just because expecting mothers love food as much as I do! Celebrating a new mama is just so exciting.
When it comes time to throw a baby shower, and you start thinking of food themes, how do you know where to start? There are just so many options! You can start browsing online, but just get comfy and settle in because you can spend hours looking for delicious baby shower recipes. Who has that kind of time? Well, I've helped you out, because I have compiled 50 of the best baby shower recipes.
Below you will find appetizers, salads, drinks, dips, sandwiches, and even some healthy options. 40+ baby shower recipes that will make your party planning a breeze!
9 Baby Shower Appetizer Recipes
Deviled Eggs from Food Folks and Fun
This classic Deviled Eggs recipe is always a crowd favorite at every party and barbecue. They're the perfect mouth-full of comfort food.
Hawaiian Tortilla Roll Up from The Pinning Mama
I love Hawaiian Pizza, so it only makes sense that these Hawaiian Tortilla Rollups will be delicious!
Crescent roll pizza appetizer from Food Folks and Fun
This Simple Crescent Roll Pizza Appetizer recipe is easy to make and always a hit at parties! You can even serve this veggie pizza recipe for dinner!
Sweet & Tangy Barbecue Meatballs from Dash of Sanity
Meatballs are a staple for any party, but these meatballs step it up a notch to take your ordinary meatballs to amazing.
Homemade Pimento Cheese from Food Folks and Fun
Pimento Cheese, the southern classic, never tasted so good when paired with buttery crackers. This recipe is simple, portable, and it's a family snacking favorite!
Broccoli Cheese Bites from Play Party Plan
Everyone loves a tasty broccoli cheese casserole. So imagine that in a bite-size form displayed at a baby shower. They will not only look delicious but will be a major hit!
Strawberry Goat Cheese Bruschetta from Food Folks and Fun
This Strawberry Goat Cheese Bruschetta with Balsamic Glaze is the appetizer of summer! It's fresh, and bright flavors are just the thing for a summer party, barbecue, or even a light dinner.
Mozzarella Pepperoni Olive Bites from Nums the Word
Looking for a super quick and straightforward appetizer that doesn't involve any cooking? Here you go! All you need are some olives, pepperoni, mozzarella, and toothpicks. Ten minutes to assemble, and you are all set.
Goat cheese Tomato Tart from Food Folks and Fun
This Goat Cheese Tomato Tart is a wonderfully easy, show-stopper recipe. It is perfect for summer entertaining and for using up in-season cherry tomatoes!
6 Healthy Baby Shower Recipes
Greek Layer Dip from Easy Family Meals
This is a great dip because it has all of the same great taste as other dips, but it is a lighter, healthier appetizer. The hummus, tomatoes, and cucumbers are a delicious combination.
Guacamole Shrimp Appetizer from Life Currents
Guacamole is everything in my life! It is such a healthy treat. Pair it with shrimp for a bite-size snack, and it becomes incredible.
Healthy Chicken Salad from Shugary Sweets
A traditional chicken salad with a healthy makeover!
Kale Salad from Savory Experiments
Kale has so many health benefits, so this salad is an excellent option for those looking for a healthier salad option. The salad is topped with a lemon dressing, making it a light and refreshing (and yummy) salad.
Whole30 Potato Salad from Tastes of Lizzy T
Take out the sugar and make your own mayo, and you end up with a healthy version of a well-loved classic, potato salad.
Mexican Corn Salad from Life Currents
If you are looking for a salad that meets a variety of dietary needs, this Mexican Corn salad is your solution. It is full of veggies, gluten-free, nut-free, dairy-free, and vegan. That should cover everyone! Most importantly, it is delicious!
7 Baby Shower Sandwich Recipes
Chicken and Waffle Sliders from Food Folks and Fun
These Chicken and Waffle Sliders are the easiest party food recipe that you will make! They're quick & easy to make, and they're always a crowd-pleaser.
Cucumber Sandwiches from Savory Experiments
These finger sandwiches are light and refreshing and would complement any other item being served at the party.
Cranberry Chicken Salad from Food Folks and Fun
This Cranberry Chicken Salad with Pecans is all dressed up and ready for the holidays. Serve it on croissants, rolls, or as a wrap.
Ham and Cheese Party Sandwiches from Go Go Go Gourmet
Baby showers are all about the mama, right? These party sandwiches will make any expecting mama (and her guests) happy!
Egg Salad from Food Folks and Fun
This creamy Egg Salad recipe has chunks of egg whites and just the right balance of crunchy celery and bright herbs like chives and dill
Sausage Egg and Cheese Breakfast Sliders from The Pinning Mama
A brunch themed baby shower would be so fun and delicious. The food spread could be amazing. Just imagine these breakfast sliders with syrup drizzled on top, oh my goodness I want to make them now!
Cucumber Sandwiches from Savory Experiments
These finger sandwiches are light and refreshing and would complement any other item being served at the party.
5 Baby Shower Salad Recipes
Poppy Seed Pasta Salad from Food Folks and Fun
Poppy Seed Pasta Salad is an easy make-ahead recipe that's perfect for large get-togethers like baby showers!
Peach Strawberry Salad from Life Currents
This is such a refreshing salad. The fresh fruit with the tart lime juice tastes simply amazing.
Cobb Salad Recipe from Food Folks and Fun
This Cobb Salad recipe is the perfect entree salad recipe. It's also a great way to use up leftover ham and hard-boiled eggs.
Elbow Macaroni Salad from Spaceships and Laser Beams
Pasta salad is always a great option to serve at a party because they are easy to throw together, serves a crowd, and people love them.
Caprese Chicken Salad from The Pinning Mama
The fresh mozzarella, tomatoes, and basil mixed in with the chicken and mayo mixture is a delicious combination and a twist on the traditional chicken salad to serve something unique to your guests.
5 Baby Shower Dip Recipes
Mexican Spinach Dip from Food Folks and Fun
If you love spinach dip and Mexican food then you'll LOVE my Mexican Spinach Dip recipe! It's always a hit at any party!
Jalapeno Popper Dip from Nums the Word
This hot dip makes the perfect appetizer for any party. It is not too spicy, though, so don't be turned off by the name! It offers all the flavor without the kick of the jalapeno.
French Onion Dip from Food Folks and Fun
This homemade French Onion Dip recipe will make you ditch the packet for good! It's so creamy and tasty that people will be begging you for the recipe!
Orange Fruit Dip from Play Party Plan
This refreshing dip would be so cute at a baby shower served with fruit kabobs or inside of a hollowed-out pineapple. So fun and simple!
Cheesy Bacon Vegetable Dip from Simple and Seasonal
I've said it before, and I will say it again (and again!) bacon makes everything better. Adding some bacon bits in this dip makes it extra yummy.
3 Baby Shower Veggie & Charcuterie Recipes
Cheese Platter Basics from Food Folks and Fun
See how to make a delicious spread of fine imported cheese served with meat, fruit, nuts, bread, and crackers for Thanksgiving, Christmas, or any get together in this Charcuterie Board Basics: Tips for the Perfect Spread post
Crudite Platter with Roasted Veggies from Eazy Peazy Mealz
The colors on this tray are beautiful. The combination of bright colors, flavors, raw, and roasted veggies leaves you lots of room to be creative when putting this platter together.
Homemade Charcuterie Board from Totally the Bomb
An easy way to get a high-quality taste at a low price. You make the display, and your guests assemble it. So easy!
4 Baby Shower Dessert Recipes
Watergate Salad from Food Folks and Fun
This Watergate salad is a fluffy and creamy pistachio salad that is easy to whip up and tastes even better the second day!
Ice Cream Cookie Bar from Play Party Plan
When I was pregnant, I craved ice cream so this Ice Cream Cookie Bar would be my dream come true at my baby shower. But honestly, even when I am not pregnant, I love ice cream just as much, so I would be in heaven if I walked into a baby shower to see this Ice Cream Cookie Bar!
Lemon Lush from Food Folks and Fun
Lemon Lush is a layered dessert with a shortbread crust, sweetened cream cheese, lemon pudding, and whipped cream. This Lemon Lush recipe is made entirely from scratch!
Cheesecake Sugar Cookie Cups from Like Mother Like Daughter
Don't these cookie cups look adorable? What a fun treat to serve at a baby shower.
4 Baby Shower Drinks
Strawberry Party Punch from Wishes and Dishes
Hawaiian Punch, Sprite, and Sherbet are all you need to make this delicious party punch.
Pink and Blue Punch from Simple and Seasonal
This is such a cute idea to serve at a baby shower, especially when the mom to be doesn't know the gender of the baby.
Sparkling Strawberry Punch from Tastes of Lizzy T
This punch uses Jello in the recipe. How fun is that? It adds an extra sweetness to the Ginger Ale and Lemonade that is easy to make and serves a crowd.
Pineapple Punch from Simple and Seasonal
This bright and sunny yellow punch would be a beautiful addition to any food table.
Now that you've got the food covered, you have more time to focus on planning those fun baby shower games instead of stressing over what you are going to serve! Whatever your food theme is for your baby shower, I know you'll find something here to fit it.