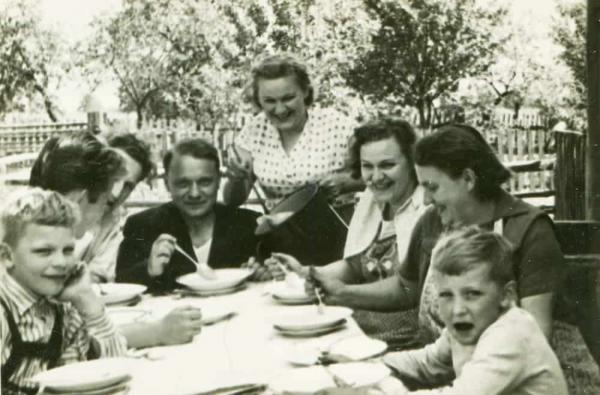 Thanksgiving is often overlooked in all the hurried preparations for Christmas. Even before Halloween, stores start setting up Christmas trees, blow-up Santa Clauses and displays of brightly colored ornaments. But it would be a mistake to neglect celebrating Thanksgiving - especially since a feeling of gratitude helps set the right attitude for entering the Christmas season.
So how can you make sure Thanksgiving receives the celebration it deserves? Perhaps you're looking to spice up existing traditions. Perhaps you're a newlywed, trying to decide how to combine two family traditions or start your own. Whether your family is new or seasoned, here are some fun new traditions for you to start this year.
Volunteer at a food bank or homeless shelter
This is a good time of year to remember those less fortunate than yourself. Find out if there are any food banks or homeless shelters in your area that need volunteers to help serve meals. Go as a family, serve together, and after your shift is done, take some time to sit and talk with a few of the people you served. You'll likely hear some incredible stories. When you have children old enough to talk about it, encourage them to share their feelings about the experience.
Learn about your family history
There are a lot of resources for finding out about your ancestors, including FamilySearch.org and Ancestry.com. During November, make a special effort to find out more about your family history and the stories of your forbearers. When you remind yourself where you came from, you'll be more thankful for what you have today. The first Thanksgiving was in 1621. Where were your ancestors that year? Make it a tradition to share these stories each year with your children.
Choose one new recipe each year
One of the fun parts of Thanksgiving is all the unique food you may only eat once a year: turkey, stuffing, cranberry sauce, yams, pumpkin pie, etc. In addition to these traditional foods, choose one new recipe each year to try out. Look into different gravy recipes, new and delicious pies or some other delicious dessert. If the recipe turns out good enough, add it to your repertoire and try something else next year.
Contribute to someone else's Thanksgiving dinner
There are many low-income families who can't afford fancy food on Thanksgiving. Ask your friends, family and neighbors, whether they know about any struggling families whose Thanksgiving you could make even more special. Then, take your whole family shopping for food, festive decorations, table settings or other small gifts, and bring your purchases home to wrap up. It might also be fun to involve other families with whom you could share the cost. The day before Thanksgiving, take the food to the home of your chosen family and get ready to witness true thankfulness.
Start an annual gratitude jar
This tradition involves focusing all year on what you're grateful for. Set a large jar or other container (decorated as you see fit) in a visible place in your home. Throughout the year, encourage your family members to write down the things they're thankful for on strips of paper and add them to the jar. After dinner on Thanksgiving, open the jar and read the slips of paper, reminiscing about everything your family was blessed with that year.
Whether this is your first Thanksgiving together or your 50th, it's never too late to start a new tradition. You can make Thanksgiving a highlight of the holiday season this year.