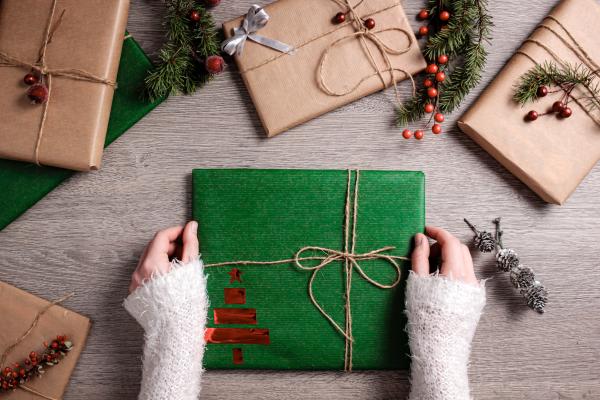 Everyone is familiar with the game Secret Santa, and if you're not, here's a rundown of how it's played. Participants are to draw names out of a hat and secretly buy a Christmas gift for the name they chose without revealing who it is they got or who is giving the gift. It's a fun Christmas tradition that has been done within families and friend groups, schools, churches, even in the workspace.
If you find yourself not being able to participate in your traditional Secret Santa game this holiday, no worries, you can still play Secret Santa and spread Christmas cheer to others.
One of the best parts about Christmas is being able to bring joy to the hearts of others in sometimes what may be considered a small and simple gesture. Here are some ways you can get involved in the Secret Santa fun this Christmas, but don't forget to keep it a surprise.
Leave a gift at a neighbors doorstep.
Surprise a neighbor by leaving a small gift or treat at their doorstep without revealing or hinting off that it's from you. If you live close enough to them, you may be able to even catch their reaction once they notice the sweet gesture. Spreading the holiday cheer in the areas we live in is a perfect way to foster a sense of community that will continue to spread all throughout the neighborhood.
Send an E-Donation to an organization or charity of your choice.
Technology makes it so easy for us to continue our giving efforts virtually. There are so many organizations, senior living facilities, and orphanages that offer online services to help donors send electronic donations. You can do a quick and simple search online to check out some of the available organizations accepting donations for the holidays.
One Warm Coat is a national organization that helps to supply warm winter coats to those in need. It is heartbreaking to know that so many people will go without basic necessities such as a coat to keep them warm during the colder months. One Warm Coat allows you to help them fulfill this need by donating funds, donating coats, or even holding a coat drive for the organization. Their website provides all of the information needed to help support them, and there is even an active map on their website that allows you to check and see if there are any local coat drives or donation centers in your area. These donations will help these organizations and facilities create a joyful holiday experience for the ones they serve.
Adopt an angel from the Angel Tree.
Another great way to spread holiday cheer is by bringing a smile to a child's face on Christmas morning. Walmart has partnered with the Salvation Army for many years to provide an Angel Tree service that allows families in need to apply for their children to be added to the Angel Tree. What happens then is Walmart will put together a Christmas wish list for each child and pin it on a tree that will be located in the store. Volunteers are then able to go into Walmart stores and select an angel to buy Christmas presents for. Many families, unfortunately, fall into compromising circumstances during the holidays, and your adoption of an angel could mean one less child waking up disappointed on Christmas morning. It is completely anonymous and a special way to give to those in need during the holidays.
Grant a Christmas wish.
It could be a loved one, a friend, or a co-worker that you know who has been talking about something special they have wanted to do or get for themselves. Make their Christmas wish come true by secretly gifting them the very thing they wished to buy for themselves. You'll be able to witness the joy on their face when they react to receiving it, and it'll be a secret memory that you share with them for years to come.
Pay it forward.
Next time you're in the drive-thru at your local Starbucks, offer to pay for the order in front or behind you. This small gesture can make a world of difference in someone's day, and it's sure to spread the holiday cheer. Believe it or not, often times when this is done, it starts a chain reaction, and multiple will continue doing it even after you leave. Your kindness could lead to many people getting the bill for the favorite holiday drink covered and that alone is rewarding.
Create Christmas cards to leave out for strangers.
Our words carry so much power, and during the holidays, it's important that we are intentional with our words and speak from a place of love as often as we can. Spend some time creating Christmas cards that you can take out and leave in random places you may travel, like on someone's windshield, a mailbox, or even in a public bathroom. The small, uplifting messages in your cards could be the very thing that changes someone's life or saves it. We never know what people are going through, and we should always be mindful of that when it comes to how we interact with others.
Christmas can be a very difficult time for people, and by random acts of kindness such as playing Secret Santa, you are able to spread hope to those who may be facing challenges this holiday season. We have the ability to lift someone else's spirits in the gestures we do, and the fact that we are able to do that is more than enough recognition. The most important thing to remember about playing Secret Santa this Christmas is to remember that this is something we should participate in all the time and not just around the holidays. We should always take the opportunity to help someone else, and if everyone could adopt that attitude, the world could become a more loving and safe space for everyone. After all, Christmas isn't about what you can get, but what you can give to others.