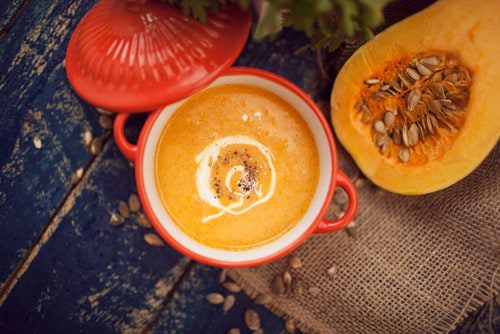 You've made a resolution to eat healthier. Make it easier on yourself with these diet-friendly foods that are simple to make and don't skimp on flavor.
1. Banana-Cashew Breakfast Smoothie
What makes it easy
An entire breakfast in a glass.
What works for your waistline
Every single ingredient! Flax, Dates and Oats: (high fiber), Banana (4-12g resistant carbohydrates), honey (natural antibiotic) and Cashews (protein). Optional: almond milk (dairy-free).
1 Banana
2 Tablespoons cashews
1 cup milk (or almond milk)
3-5 dates
1 Tablespoon flax
2-3 Tablespoons old-fashioned rolled oats
3 oz. Greek Yogurt
1 Tablespoon honey
Ice cubes
Blend until smooth.
2. Butternut Squash Soup
What makes it easy
No pots and pans, make it all in the blender and microwave.
What works for your waistline
Butternut squash and onion (get those veggies in!), apple (fruit and fiber).
1-2 cups heated chicken stock
1 small butternut squash
1/2 medium apple
2 T chopped onion
1/4 tsp nutmeg
1/8 tsp rosemary
1/8 tsp Herbes de Provence
1/4 cup cream
Split Squash in half lengthwise and remove seeds. Cover with plastic wrap and microwave 8-10 minutes. Scoop out contents and place in blender. Add chicken stock, apple, onion and spices. Blend on high for 5 minutes. Gently stir in cream.
3. Chicken and Avocado open-face sandwich
What makes it easy
You buy the rotisserie chicken already cooked. Meal ready in 5 minutes.
What works for your waistline
Rotisserie chicken (lean protein), whole grain bread (fiber), avocado (healthy fat that makes you feel fuller longer), romaine (leafy green)
Toast one slice of whole wheat bread.
Spread with butter or olive oil mayo (optional) and/or swiss cheese
Add slices of rotisserie chicken and avocado.
Give it a few grinds of salt and pepper.
Top with sliced romaine lettuce.
Optional: garnish with sliced heirloom tomatoes.
4. Slow-cooker Steel-cut Oats
(adapted from Cooking Light)
What makes it easy
You throw it all in the night before, and wake up to the smell of a delicious breakfast, ready to eat.
What works for your waistline
steel-cut oats (optimal fiber), apples (fruit), nuts (protein)
1.5 cups milk
1.5 cups water
2 apples, chopped in 1/2 inch pieces
1 cup steel-cut oats
2 Tablespoons brown sugar
2 Tablespoons butter
1/4 tsp cinnamon
1/4 teaspoon sea salt
canola oil cooking spray
1/4 cup pure Grade B maple syrup
1/4 cup chopped pecans
Coat inside of 2.5 quart slow-cooker with cooking spray. Bring water and milk to a boil. Place in slow cooker. Add apples through sea salt. Cover and cook on LOW 7-8 hours. Top with syrup and chopped nuts, and additional milk if desired. (Note: this will burn if you try it in a 5-6 quart crockpot. I learned this the hard way.)
5. Perfect Roasted Asparagus
What makes it easy
simple, fool-proof, and cooks in 15 minutes
What works for your waistline
Green vegetable, lemon zest and olive oil
1 lb. asparagus
1-2 tsp olive oil
Zest of 1/2 lemon
salt and pepper to taste
Lay asparagus in alternating directions in baking dish (this creates its own steamer effect). Drizzle with olive oil. Add lemon zest and salt and pepper. Add 2 T water to bottom of pan. Roast at 400 degrees for 15 minutes. (Lengthen time for bigger asparagus spears, shorten for narrower spears.) Serve immediately.
6. Baked Salmon
What makes it easy
package it up in foil and toss it in the oven.
What works for your waistline
Salmon is rich with healthy omega-3 oil, good for your mental health as well as your physical health. Topped with lemon and herbs.
2 lb. salmon fillets
2 cloves garlic, minced
1 tsp dried basil (triple amount if fresh)
1 tsp ground black pepper
1 T fresh Italian parsley, chopped
3 T light olive oil
1 tsp salt
1 T fresh lemon juice
Mix garlic, light olive oil, basil; salt, pepper, lemon juice and parsley in glass baking dish. Place salmon fillets in dish and cover with marinade. Marinate in refrigerator for an hour, if time allows.
Preheat oven to 375 degrees (350 for convection)
Place fillets in aluminum foil, cover with extra marinade, form a loose tent, and seal all edges. Place sealed tin foil tent/s in glass baking dish. Bake 25-30 minutes, until salmon flakes easily with a fork.
7. Cauliflower and Cheddar Soup
(adapted from Jamie Oliver and Luisa Perkins)
What makes it easy
Simmer in one pot, then blend.
What works for your waistline
a creamy rich soup"with no butter, cream or roux. All the comfort-food creaminess comes from pureed cauliflower and cheddar cheese.
2 carrots
2 ribs celery
1 large onion
1 medium potato
2 garlic cloves, minced
8 cups chopped cauliflower
2 tablespoons olive oil
4-6 cups chicken stock, boiling
1 cup cheddar cheese
sea salt
black pepper, freshly ground
1 teaspoon English mustard
nutmeg (optional)
Peel and chop all the veggies and put them in a large pot, with olive oil in the bottom. Cover loosely and simmer on low for 20 minutes, until brightly colored and lightly softened. Add chicken stock and bring to a boil, then reduce to low and simmer another 20 minutes. Remove from heat. Add seasonings, mustard and cheese. Using a hand or stick blender, blend until smooth. (Can also be done in batches in a traditional blender or food processor.)