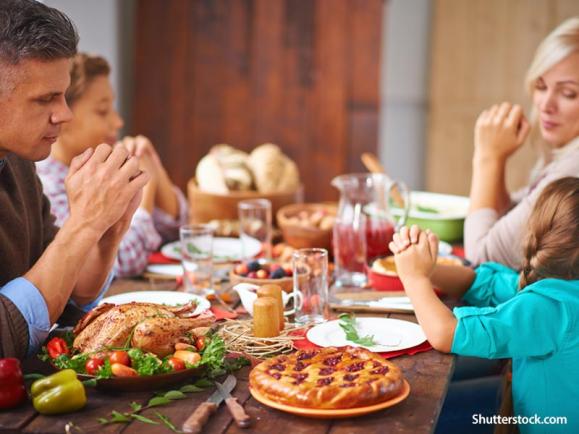 The essentials for Thanksgiving: a glistening turkey, stuffing, mashed potatoes with gravy, and pie for dessert. Simple enough, right?
While the dinner is definitely the highlight of the holiday, Thanksgiving can be so much more than just a time to stuff your face with inconceivable amounts of food. It's a day to also slow down and connect with the ones you love the most, be thankful for all the great blessings you have in life, and to participate in some of your families best traditions.
Whether you are starting your own family or are just excited to incorporate something new into this year's Thanksgiving activities, these traditions might be the perfect fit.
Make a non-traditional Thanksgiving dish.
There are some staples of a traditional Thanksgiving dinner that almost all American families make. We are talking the classics like a big turkey, sweet potatoes or green bean casserole. One fun idea is creating a dish that isn't something you normally would have on the holiday. For example, you might make oysters throughout the day as an appetizer while your friends and family wait for the big meal. Maybe someone in your family really loves your recipe for spinach dip, but doesn't get to have it that often since they don't live close by. Just because it's Thanksgiving doesn't mean you can't whip it up anyways. If having it on the day of the big meal seems to strange to you, make it a tradition to eat a special meal the night before.
Volunteer at a soup kitchen.
On Thanksgiving, a lovely tradition is to take the time to serve those in need. Volunteer in soup kitchen or at any organization serving food to those less fortunate. They always appreciate a few extra helping hands to make sure everyone gets fed on Thanksgiving. This will also teach your children about the importance of helping out others and to be even more thankful for what they do have back at home.
Have the kids set the table.
Do you have some young ones that aren't quite ready to help you cook in the kitchen, but want to be involved in the holiday? Get them involved by having them help prep the table for dinner. They'll feel proud of their contribution to the holiday, and learn the importance of chipping in. As they grow older, you can have them help do basic tasks in the kitchen as well.
Take your Christmas card photos.
Many families will spend the morning of Thanksgiving getting ready to look their best. Curled hair, make up, and a nice button down for the boys might sound familiar. When your whole family is in one place and dressed up, why not take some photos to remember the moment? These work out great for Christmas cards you'll soon be ordering as well. Go to a nice park or a nearby beach or lake to get some much needed fresh air to take the photos if you have time.
Remember lost loved ones.
On a day made for spending time with the people you care about most, set aside a little of it to think of loved one who have passed on. Get everyone to gather together and share a story or a special moment they remember; through those memories, you keep your loved ones alive in your hearts and can pass on important family legacies to the next generation.
Binge-watch TV as a family.
There are some great holiday classics that are on during Thanksgiving day. You can start the day off cooking as a family while catching the "Macy's Day Parade" and "The National Dog Show" right after. Once you've stuffed your faces full and are heading straight for a food-coma, you can put on some fun movies everyone will love. Is there a Christmas movie you loved watching growing up that you want to share with your kids? Maybe you and your spouse simply love the Thanksgiving episode of "Friends". Whatever it is, pick some shows and movies that are your families go-to.
Run a Turkey Trot.
You might be the family that hears about a 5k on Thanksgiving morning and cringe. Surprisingly, though, local Turkey Trots are incredibly popular. There are many that are done to help out charities across the country. You don't have to be an avid runner to participate, either. Many families love to get dressed up in fun and silly outfits and walk the track before devouring thousands of calories. You will be smiling all the way to the finish line.
Find a unique way to share your thanks.
Have you ever thought about how your family actually displays their gratitude on Thanksgiving day? Many families sit around the table and say what they are thankful for before passing around the food. However you can make it a more fun, intimate affair. For example, many families have started to make "Thankful Trees". These are great for young kid's because they get to use their arts and craft skills. They can take a leaf and paint a reason they are thankful, and then stick it on a piece of paper with a large tree on it. You also could have each person write a few paragraphs about what they are most thankful for, and save them to reread at Christmas.
Thanksgiving is a fun holiday to share thanks, eat delicious food, and get closer to those you love the most. To make your day that much more special this year consider adopting one of these new traditions. They can be passed on from generation to generation, making the holiday one your family always looks forward to with cheer.